About SAGE Scholars, Inc.
We bring students & colleges together!
SAGE Scholars is proud to be the nation's oldest and largest private college preparation and funding organization. Our goal is to bridge the gap between students who want an affordable private college education with colleges that will guarantee tuition discounts for member families - all at no cost to the student, family or college. Through our Tuition Rewards program, SAGE Scholars has been helping families secure the best possible private college education for over a quarter of a century.
Our Story
SAGE Scholars was formed in 1995 with the purpose of promoting the values and affordability of private higher education. SAGE Scholars was started by visionary leaders with higher education experience including the former head of admissions and financial aid at the Wharton School at the University of Pennsylvania. Through SAGE Scholars' unique Tuition Rewards Program, the company brings together families, colleges & universities, and benefit providers to create college funding solutions.
Dr. Johnston, founder and architect of SAGE Scholars, asked, "How can we reward families for saving for college?" His solution: Tuition Rewards.
The idea was that families could, by conscientiously saving, planning and preparing for college, accumulate Tuition Rewards Points redeemable for guaranteed minimum discounts off the "sticker price" of tuition at a group of private colleges seeking qualified students. For families and participating colleges, SAGE Scholars was a "win-win": Families could earn guaranteed, non-need based discounts off full tuition of up to 25%, and colleges could recruit quality students.
It took six years to assemble a core group of colleges; in 2001, when 100 private colleges and universities joined the consortium, SAGE Scholars Tuition Rewards was launched. Today, over 455 private colleges and universities from Maine to Hawaii use Tuition Rewards. And, those students are good — SAGE Scholars good!
The SAGE Scholars Advisory Council
The SAGE Scholars Advisory Council is made up of senior leaders from SAGE partner schools and other institutions. The Advisory Council consists of college presidents, vice presidents of enrollment, directors of financial aid and other senior staff. The Advisory Council works to promote SAGE Scholars' programs to colleges and universities across America and advises SAGE Scholars on issues related to higher education.
James B. Johnston, Ed.D.
Founder & President
Dr. Johnston is the founder and architect of SAGE Scholars, Inc. A visionary leader in the field of higher education, he works closely with the leaders of private collegiate institutions to make their values-oriented educational programs more available and more affordable to families and their children. He developed Tuition Rewards, a college savings plan, in partnership with member institutions and benefit providers.
Dr. Johnston began his career in education as a professor in the Business Department at Spring Garden College, becoming the first Dean of their Business Management Division. Subsequently, he became Director of Admissions and Financial Aid at the Wharton Graduate School of the University of Pennsylvania, where he served for four years. In 1976, he founded Educational Advisory Services, International, an educational consulting firm, the predecessor to SAGE Scholars. During this time, he served as Secretary of the Fund for Pennsylvania's State Commission of Higher Education.
Dr. Johnston received his B.A. in Political Science from Bucknell University, his M.B.A. and Doctorate from the University of Pennsylvania. He serves on several boards of philanthropic and educational institutions. He chaired the first of two national conferences on 529 plans.
In 2020, the University of Pennsylvania's Dr. Pam Grossman, dean of the Graduate School of Education (Penn GSE) and George and Diane Weiss Professor of Education, awarded James B. Johnston (MBA '66, Ed.D '76) the "Penn GSE Educator of the Year" honor. The Award "recognizes an outstanding graduate of the University, preferably of the Graduate School of Education, who demonstrates unusual involvement in and commitment to identifying and helping to resolve school problems and current issues in education."
Michael Hall
CEO
Michael Hall is the CEO of SAGE Scholars. He is also an expert in the realm of higher educational tax credits. Michael received his Master's in Taxation from Villanova Law School and his undergraduate degree in Accounting from Temple University.
AJ Healy
Director of Corporate Marketing
AJ Healy is the Director of Corporate Marketing for SAGE Scholars. In this role, AJ acts as the main point of contact for new business deals and has introduced the SAGE Scholars Tuition Rewards program to several top-tier companies, which have successfully rolled it out to hundreds of thousands of their customers. AJ received his bachelor's degree in Economics from the University of Richmond.
Steve Logan
Chief Technology Officer
Steve Logan is the Chief Technology Officer for SAGE Scholars. In this position, Steve is in charge of SAGE's strategy for using technological resources in an efficient and secure manner. Steve also leads a growing team of software developers, and is also responible for Information Security, partner integrations, IT planning, procurement and deployment.
Prior to joining SAGE Scholars, Steve was involved in a Philadelphia based technology company for thirteen years. In 1996, Steve was instrumental in taking this company to new levels by starting one of the earliest independently owned Internet Service Providers in the Philadelphia region.
Over the past several years, Steve played a key role in directing the company to new markets and helping the company to grow by bringing new and exciting ideas to SAGE Scholars. Steve has over thirty years experience in the technology, Internet, database and programming sectors. Steve joined the SAGE Scholars team in 2001.
Aimee Gonthier
Creative Director
Aimee Gonthier is the Creative Director for SAGE Scholars and a passionate advocate for higher education. In her role, Aimee creates and maintains brand standards and coordinates the marketing and creative campaigns for SAGE Scholars products and services.
Aimee joined the SAGE Scholars team in 2016 during a period of rapid growth and led the rebranding of SAGE Scholars and the Tuition Rewards program. She has played key roles in the launch of the ReadySetCollege.org college and career planning website, the expansion of the Market Cap & Gown newsletter, the establishment of the SAGE Scholars Educational Foundation, which offers annual scholarships and the SAGE Secure benefit, and the creation of the SAGE Scholars Newsroom.
Aimee holds a Master of Fine Arts (MFA) degree from Moore College of Art and Design in Philadelphia, as well as a Bachelor of Fine Arts (BFA) from the State University of New York at Potsdam. Aimee is an awarded printmaker and photographer. A native of the North Country region of New York State, she currently resides in Philadelphia.
John Varady
Senior Developer
John Varady is the Senior Developer at SAGE Scholars and brings decades of experience developing secure applications and databases to our team. John holds a Bachelor of Science degree in Software Engineering Technology from the now defunct Spring Garden College in Philadelphia. Over the years, John has worked in many industries developing world class software. He has developed on-line stores for large eCommerce brands, worked on clinical trial and drug sample tracking applications for the pharmacuetical industry, and poineered development of order entry and delivery applications for the then emerging hand-held market.
Carli Swartz
Director of College Relations
Carli Swartz is the Director of College Relations for SAGE Scholars. In this role, Carli leads all communication with SAGE Scholars network of over 455 colleges and universities. Carli received her undergraduate degrees in Business and Communication from Wittenberg University, a SAGE Scholars member institution, where she also played Varsity Women's Basketball.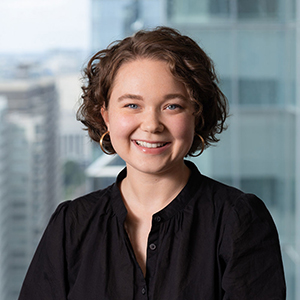 Maeve Hening
Director of College Outreach and Recruitment
Maeve Hening graduated from Kalamazoo College (Michigan) with degrees in Studio Art and Spanish Language and Literature. With previous experience in higher education admissions, Maeve looks to build on her role as SAGE Scholars Team College Relations Specialist by collaborating with member colleges to increase database optimization and implement SAGE Scholars programs. Maeve currently resides in Philadelphia.
Robert Savett
Senior Director, College Marketing
Robert is the Senior Director, College Marketing at SAGE Scholars. In this role Robert orchestrates the recruiting of all new colleges and universities in the SAGE Scholars network. He is a past president & chairman of the board of the Philadelphia Direct Marketing Association. Robert earned his bachelor's degree in American Civilization from the University of Pennsylvania and his MBA in Marketing and Entrepreneurial Management from the University of Pennsylvania's Wharton School of Business.
Alfredo Santana
Assistant Director of College Relations
Alfredo Santana graduated from LaSalle University, SAGE Scholars member college, with degrees in Psychology and Philosophy. Alfredo is the Assistant Director of College Relations at SAGE Scholars. In this role, he works with the college relations team to ensure strong communication with the SAGE Scholars network of over 455 private colleges and universities. He currently resides in Philadelphia.
Ian Highsmith
College Relations Specialist & Front-End Developer
Ian Highsmith graduated from West Virginia University with a Bachelor's degree in Finance. In 2018, Ian earned his coding credentials from the Launch Academy. As a College Relations Specialist, Ian maintains strong communication with members to increase database optimization and implement SAGE Scholars programs. As a front-end developer, Ian carries out the publication of SAGE Scholars' Newsroom content, a monthly Market Cap & Gown Newsletter, and other day-to-day web operations. He currently resides in Philadelphia.
Kaley White
Special Projects Director
Kaley graduated summa cum laude from Villanova University with a Bachelors and Master's in Political Science. In 2021, she earned her M.S. Ed with distinction from the University of Pennsylvania Graduate School of Education. As Director of the SAGE Scholars Newsroom, Kaley implements and generates SAGE Scholars student programming. Her responsibilities include managing the day-to-day communications of the Newsroom, and the creation of short-form content for a team of fifty Newsroom writers. Beginning in August 2023, Kaley will also oversee the SAGE Scholars Ambassador program for member students. She currently resides in Philadelphia.
Nathan Bird
Office Manager
Nathan Bird is the Office Manager at SAGE Scholars. In this role, he maintains office services. Nathan is also our customer service representative. He supports customers by providing helpful information and answering questions. Nathan is integral in helping to ensure that customers are satisfied with products, services, and features. Nate earned his Associate's Degree in Applied Science from Montgomery County Community College and a Bachelor's Degree in Business Communication from Chestnut Hill College.