Roosevelt University
Chicago, IL
At Roosevelt University, our award-winning faculty take pride in pushing the school's remarkably diverse students to the limits of achievement, inspiring the transformation of lives and communities through the principles of social justice. We are proudly named in honor of Franklin and Eleanor Roosevelt.
Roosevelt's 2,600 undergraduates can choose from over 60 degree programs and two distinct campuses, located in downtown Chicago and suburban Schaumburg. In May 2012, a new 32-story building, the second tallest academic structure in the U.S., opened on the Chicago Campus. The top 19 floors provide 600 students with on-campus housing with stunning views of Lake Michigan. The building also includes state-of-the art science labs, classrooms, the Heller College of Business and a fitness center. In December of 2012 the university opened the Goodman Center, a recreation and athletic facility, home to the Roosevelt Lakers.
The student-faculty ratio at Roosevelt is 11:1; over 50% of classes have 20 or fewer students. Roosevelt faculty are committed to teaching. The most popular majors include: Psychology; Biology ; Musical Theatre; Criminal Justice; and Hospitalilty & Tourism Management. Roosevelt's acclaimed Chicago College of Performing Arts provides focused conservatory training in Music and Theatre.
In the words of Eleanor Roosevelt, the University's dedication is to "the enlightenment of the human spirit." Roosevelt's mission is not only to educate but also shape students to be socially-conscious community leaders.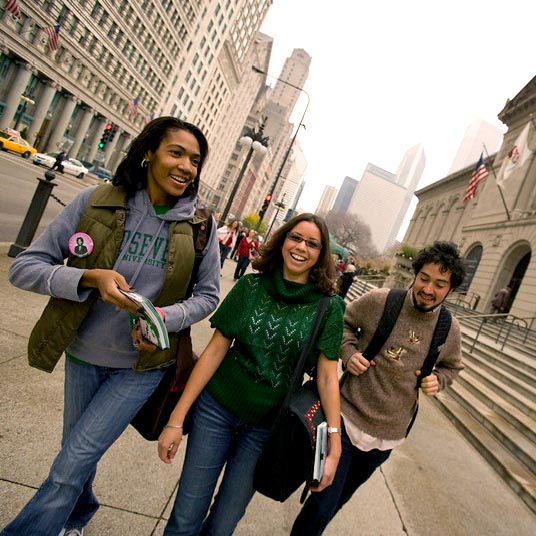 About Roosevelt University
75 years ago, Roosevelt University was born when a visionary leader and 62 faculty members had the guts to go against the norms of exclusion in favor of inclusion. They went against the discriminatory practices of higher education in 1945. When asked to limit access because of race, religion and gender, they simply said, "We don't count that way."

Our history is grounded in courage, acceptance and a commitment to social justice.

Principles. Courage. Grit. A willingness to be the first. Whatever your background, wherever you're from, we'll help you unleash your potential.
Mission Statement
Reflecting the ideals of its founders in 1945, Roosevelt University is a private, nonsectarian community of educators, scholars, and learners committed to academic, creative, and service excellence who value differences in personal experiences and perspectives; ask the difficult questions; and promote mutual understanding, inclusion, social consciousness, and action toward social justice. Recognizing that difference broadens perspectives, Roosevelt University seeks and serves a diverse, promising student body from metropolitan Chicago and around the world.
The hallmarks of the Roosevelt University experience are strong student-faculty interaction and engagement with metropolitan Chicago as both a laboratory for learning and as an expression of its commitment to social justice. The experience is created through the efforts of a strong faculty dedicated to excellence in teaching, research, and creative activity and a staff equally focused on helping students grow and achieve their educational and life goals.
Roosevelt is a metropolitan university that is an active partner in the social, economic, and cultural development of the communities it serves. It offers a broad array of academic programs, from associate degrees to doctoral degrees, in a highly interactive environment where students can explore, discover, and develop their unique abilities and interests.