Concordia University - St. Paul
St. Paul, MN
Where you study matters. You'll value Concordia University, St. Paul (MN) for the relevant expertise you'll gain in your field, the relationships you'll cherish for decades to come, and the rewarding experiences you'll only get on Concordia's campus.
In our ever-global world there's no better place than Concordia to prepare you with the culturally dynamic and rich experiences that you'll need. To top it off, CSP is one of the most affordable private institutions in the Twin Cities – making us an exceptional value for a high-quality education.
Located just minutes from the downtown areas of Minneapolis and St. Paul, students are offered rich opportunities for jobs and internships among major employers, governmental and nonprofit agencies. Our generous financial aid package ensures more students have access to a transformative education.
Concordia Fast Facts:
Most affordable tuition among the 17 Minnesota Private College Council member institutions
95% of CSP grads receive job offers within one year of graduation*
1,400+ undergraduate students on campus
Graduates earn 44% more than the national average**
16 to 1 student/faculty ratio ensures students receive personal attention from their professors
Minnesota's only private university competing in NCAA Division II athletics, with 16 varsity sports, including eight-time national champion volleyball team
* Source: First Destinations survey administered by Concordia University, St. Paul
** Source: collegescorecard.ed.gov
Visit us at csp.edu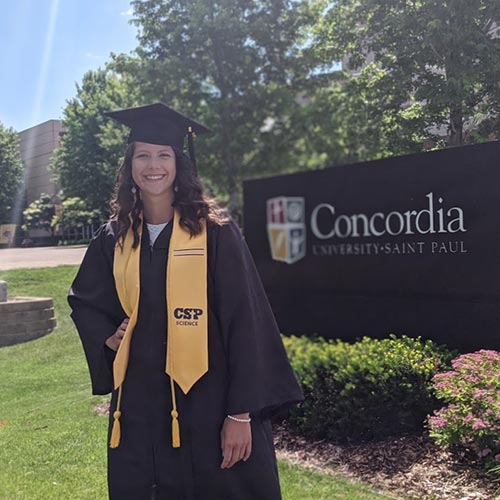 About Concordia University - St. Paul
Concordia University, St. Paul is a comprehensive Christian liberal arts university, one of 10 affiliated with The Lutheran Church-Missouri Synod. Since our founding in 1893, Concordia University has been preparing students for successful careers and meaningful lives by providing an educational experience that is responsive, relevant and real. Our focus on student success creates a caring, supportive and energetic environment that makes Concordia a place that stands out for its warmth, character and academic strength. Backgrounds, cultural heritage and ages of students vary widely, yet all have found a welcoming, accepting place to grow academically, spiritually and interpersonally. At Concordia, you are part of a close-knit, caring community that encourages you to explore your interests and abilities and to achieve your goals. Our students learn together in a supportive and collaborative setting in both the traditional or cohort-based learning environment, forming relationships that last a lifetime. Concordia's campus is conveniently located in Minnesota's capital city of St. Paul. Less than 10 minutes from either downtown St. Paul or Minneapolis, everything the Twin Cities has to offer is within easy reach.
Mission Statement
The mission of Concordia University, St. Paul, a university of The Lutheran Church — Missouri Synod, is to prepare students for thoughtful and informed living, for dedicated service to God and humanity, for enlightened care of God's creation, all within the context of the Christian Gospel.