Olivet Nazarene University
Bourbonnais, IL
Olivet Nazarene University is one of the nation's premier Christian colleges. Located on a scenic 250-acre campus 50 miles south of Chicago in Bourbonnais, IL, ONU offers its nearly 3,000 undergraduate students a choice of more than 100 majors and concentrations.
Whether their chosen fields are in medicine, business, education, ministry or a myriad of other professions, ONU graduates make a difference in the world for Christ and his kingdom. Students from more than 40 states, 20 countries and 30 religious denominations are represented at ONU, affiliated with the Church of the Nazarene, theologically grounded in the Wesleyan tradition.
ONU is a wireless campus with 400 network access locations. Students participate in more than 50 clubs and organizations, helping operate Olivet's 35,000-watt Christian music radio station. As a member of the NAIA and the Chicagoland Athletic Conference, ONU competes in 17 intercollegiate sports.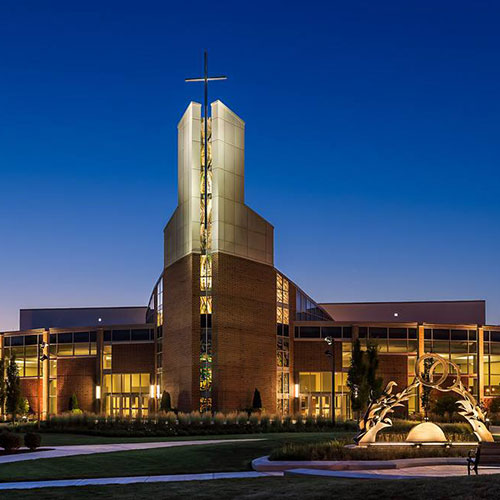 About Olivet Nazarene University
Here, at one of the nation's premier Christian universities, we believe higher education should have a higher purpose. With accredited programs, award-winning academics, and a faculty touting degrees from a wide spectrum of world-class educational institutions, Olivet stands committed to integrating faith and learning. Nestled in the historic village of Bourbonnais, Illinois, Olivet students gain knowledge and wisdom, and secure degrees that place them ahead of the pack, with portfolios and experience as evidence of an "Education with a Christian purpose."
Mission Statement
Olivet Nazarene University, a denominational university in the Wesleyan tradition, exists to provide a university level liberal arts "Education With a Christian Purpose." Our mission is to provide high quality academic instruction for the purpose of personal development, career and professional readiness, and the preparation of individuals for lives of service to God and humanity. "We seek the strongest scholarship and the deepest piety, knowing that they are thoroughly compatible [and] . . . a Christian environment . . . where not only knowledge but character is sought."