Eastern Nazarene College
Quincy, MA
As New England's premier Christian college of the liberal arts & sciences -- and the only intentionally Christian college in metropolitan Boston -- Eastern Nazarene College (Quincy, MA) combines an innovative liberal arts curriculum and a small college environment with a distinctive focus on the global issues at the intersection of faith & culture.
Only six miles from downtown Boston, between the most picturesque of the Boston Harbor beaches and the nearby Wollaston subway station, Eastern Nazarene College is situated on a beautiful and historic residential campus in a suburban seaside neighborhood -- with every day access to America's College Town.
Eastern Nazarene College's emphasis is on the teaching and mentoring of students in a nurturing, spiritually informed and academically supportive environment. ENC prepares its 1,075 undergraduates for entry into the nation's top graduate programs. The pre-law program has maintained a 100 percent acceptance rate into law schools for the past 30 years, and ENC's 94 percent acceptance rate into medical schools is more than double the national average.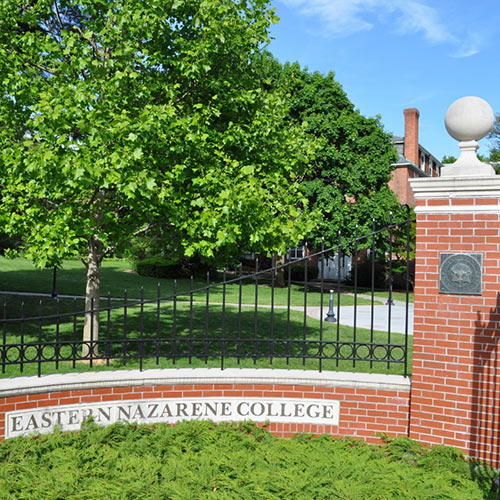 About Eastern Nazarene College
Home to 114 colleges and universities — including some of the most prestigious institutions in the world — Massachusetts has long been known as a leader in higher education. And Eastern Nazarene College is proud to rank among the state's best: BestColleges.com recently ranked ENC as #20 on its list of best colleges in the state, joining Harvard (#1) and MIT (#2) on the list. BestColleges.com's methodology takes into consideration a number of key characteristics, including acceptance, enrollment, retention and graduation rates; student loan default percentages; academic quality; and affordability to name a few. The rankings reflect the most recent information available through IPEDS and College Navigator, both of which are hosted by the National Center for Education Statistics. Eastern Nazarene College (ENC) is a fully accredited traditional Christian liberal arts college with over 1,000 students distributed across a residential undergraduate program, adult studies and a graduate program. Located on Boston's historic south shore and within walking distance of the beach and the MBTA, ENC is positioned perfectly for all our undergraduate and graduate students to live, work and study. Direct access to Boston, Quincy based businesses and our network of alumni professionals around the world help ENC to create an incredible collegiate experience for all our students. • 100% of incoming Freshman receive institutional aid • 95% of ENC graduates are employed or in graduate school (13% above the national average) • ENC graduates' salaries after attending are $11,500 higher than the national average While many faculty are active in publishing and research, and some are leaders in their fields, the emphasis is on the teaching and mentoring of students in a nurturing, spiritually informed, and academically supportive environment. Students are encouraged to travel, engage in service learning projects, and participate in internship experiences as a part of their education. ENC is one of 160 members of the Council for Christian Colleges and Universities (CCCU).
Mission Statement
The mission of Eastern Nazarene College is to serve God, the Church, and the World by providing a quality liberal arts education to students of all ages. Consistent with its Wesleyan heritage, ENC seeks to create and maintain an environment which awakens and fosters truth, righteousness, justice and holiness as made possible by God's transforming grace through Jesus Christ.