Barry University
Miami, FL
After working so hard to stand out throughout high school, who wants to find themselves lost in a large university - just a student ID number and a face in the crowd?
At Barry University in Miami, Florida, this doesn't happen.
Founded in 1940, Barry helps you become the person you were meant to be. We have a 14:1 student-faculty ratio, which means your professors get to know you - your strengths, your challenges, where you want to go and what opportunities will help you get there.
We offer degrees in business, education, nursing and health sciences, communication, the fine arts, computer science, social work, and more – including programs where you can earn both your bachelor's and master's degrees in only five years. You learn with 2,300 undergraduates from nearly all 50 states and over 80 countries – and expand your worldview right on our main campus.
We don't slack when it comes to building leaders, either. Hands-on experience is a key aspect of a Barry education – from on-campus research to internships at top organizations and service-learning which uses coursework to address community needs. Our Career Services team helps you turn your experience into career opportunities.
But it's not all work and no play. With our location in one of the coolest global cities, our NCAA championship teams, and 60 student organizations – including the arts, media, leadership, and Greek Life – there's something for everyone. Are you ready to live a Barry life?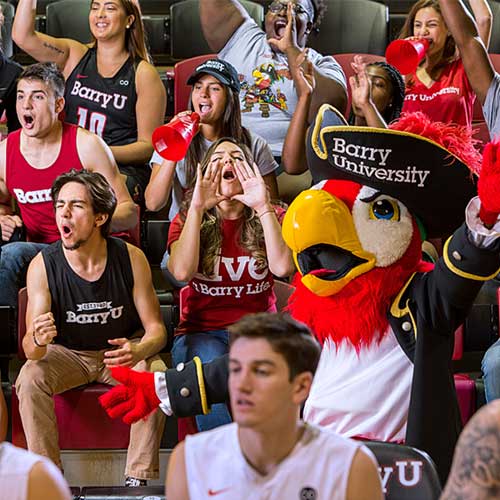 About Barry University
Barry University's liberal arts focus emphasizes a well-rounded education, as evidenced by our wide variety of majors, minors, specializations, and elective courses. Your academic advisor will assist you in developing your schedule each semester as you work towards reaching your personal and professional goals.
Mission Statement
Barry University is a Catholic institution of higher education founded in 1940 by the Adrian Dominican Sisters. Grounded in the liberal arts tradition, Barry University is a scholarly community committed to the highest academic standards in undergraduate, graduate and professional education. In the Catholic intellectual tradition, integration of study, reflection and action inform the intellectual life. Faithful to this tradition, a Barry education and university experience foster individual and communal transformation where learning leads to knowledge and truth, reflection leads to informed action, and a commitment to social justice leads to collaborative service. Barry University provides opportunities for affirming our Catholic identity, Dominican heritage, and collegiate traditions. Catholic beliefs and values are enriched by ecumenical and interfaith dialogue. Through worship and ritual, we celebrate our religious identity while remaining a University community where all are welcome.