Northeast Maritime Institute
Fairhaven, MA
Preparing students for a career at sea, Northeast Maritime Institute (NMI) will introduce you to the exciting world of nautical science. Graduates earn an Associate degree in Applied Science in just two years that represent a fast-track to employment!
NMI's waterfront facilities and school vessels provide meaningful hands-on learning opportunities. Our teaching model, with small cohort and class sizes, meets the needs of all styles of learners and includes full-bridge simulator training, classroom theory and shipboard experiences.
Our "Semester at Sea" co-op program runs during the summer and allows students to work onboard vessels alongside experienced mariners. NMI faculty and staff work hard to secure a wide range of externship experiences with top maritime companies. As you gain real world experience, you earn sea-service towards your professional captain's license. Many students are offered full-time employment with their co-op company upon graduation.
The tuition for NMI's Nautical Science program is often regained after only one year of work; the average first-year salary exceeds the cost of the two-year program. Plus, you qualify for an extensive number of license endorsements, making NMI's graduates highly prepared and employable. No other school offers the same level of credits and professional licensing and endorsements in only two years.
About Northeast Maritime Institute
Earn your Associate in Applied Science in Nautical Science degree in just two years on a fast-track to employment at sea! Northeast Maritime Institute students are introduced to the exciting world of nautical science. Explore opportunities to travel in the "Semester at Sea" program, where you will gain real world experience and build professional relationships in the maritime industry. Our teaching model includes hands on learning, simulator training, classroom theory and internship experiences for all styles of learning.
Mission Statement
To equip graduates with the combination of knowledge, critical thinking, problem solving, ethical decision making and confidence which will enable them to safely and efficiently operate, maintain and manage the ships of today and the maritime industry of tomorrow.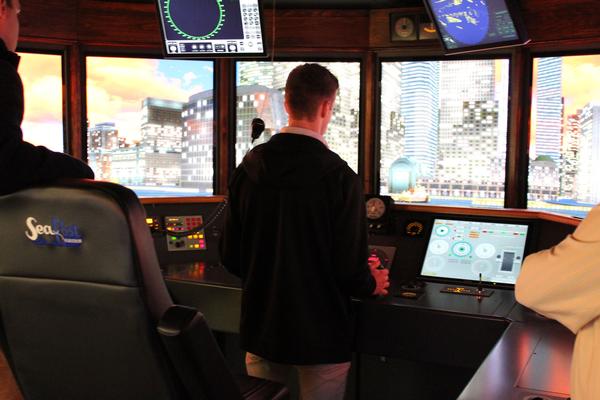 Tuition Rewards Usage Notes
The maximum discount that Northeast Maritime is required to offer a Scholar is the lesser of the Scholar's Tuition Rewards account or 25% of one year's tuition, applied evenly over two years of undergraduate education starting with the freshman year.