Marian University
Indianapolis, IN
Marian University (Indianapolis, IN) is a diverse campus, with students from across America and around the world. With scores of different faiths and traditions, Marian is rooted in universal Franciscan sponsorship values: Dignity of the individual, Peace and justice, Reconciliation and responsible stewardship.
From business to education to entertainment to medicine, Marian graduates rise to the top in their fields—a tribute not only to the great education you'll find here but also to the hard work of our placement staff to help students find the right fit after college. Indianapolis was recently ranked as one of America's 10 best cities for finding a job. So you're already a leg up on success.
We are small enough to give you the individual attention you deserve—and connected enough to help you get where you want to go. The University sits just minutes from the heart of downtown Indianapolis— an amazing blend of cosmopolitan culture and Midwestern charm—with nationally recognized restaurants, a vibrant art and music scene and big-time professional and college sports.
Marian University's more than 3,000 students have multiple opportunities to get involved, develop leadership skills and explore new interests through numerous organizations, including student government, show choir, student theatre and intramural athletics.
The Marian Knights belong to the NAIA and the Mid-Central Conference. We're home to the 2012 NAIA Championship and 2014 NAIA finalist football team. The Knights are one of the top golf teams in America and a 30-time winner of national collegiate cycling championships.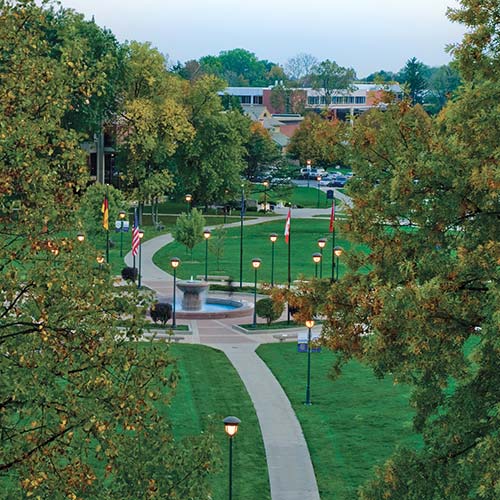 About Marian University
At Marian University, our vision is to provide an education distinguished in its ability to prepare transformative leaders for service to the world. Our mission is to be a great Catholic university dedicated to providing students with excellent teaching and learning in the Franciscan and liberal arts tradition. We welcome students of all faiths who seek an educational experience framed within the context of our Franciscan values of dignity of the individual, peace and justice, reconciliation, and responsible stewardship. Our understanding of these values is informed by reflection on the life of Jesus Christ and prayer. The institution grew out of the dedication and vision of Sister Theresa Hackelmeier and the Sisters of St. Francis, Oldenburg, who established a school in Oldenburg, Indiana, in 1851. The college was founded in Oldenburg in 1936 and moved to Indianapolis in 1937. On July 1, 2009, Marian College became Marian University. On October 19, 2012 the university will celebrate its 75th anniversary in Indianapolis. Daniel J. Elsener became the eighth president of Marian College, now Marian University, on August 1, 2001. President Elsener has dedicated his professional life to the mission of Catholic education. As a result of his energetic and visionary leadership the university has experienced great success recruiting students and raising money to advance the mission of the university.
Mission Statement
To be a great Catholic university dedicated to providing students with excellent teaching and learning in the Franciscan and liberal arts tradition.