625 7th Avenue NE
Hickory NC, 28601
At Lenoir-Rhyne University, we stand proudly upon our strong foundation of excellence that fosters pride, stability, and success. Over 125 years, our deep roots have initiated a positive reputation sustained by our commitment to growth and remarkable graduate outcomes so you can prepare for a life of purpose and career success.
Nestled in the foothills of the Blue Ridge Mountains, LR's main campus is located in Hickory, North Carolina, with access to vibrant recreational and cultural opportunities.
Quality instruction is the heart of LR's academic mission. With more than 50 majors, you will have opportunities to discover your passions and explore new interests. The challenging academic coursework is supported by internships, mentor opportunities, work study, and study-abroad programs. Our student-to-faculty ratio of 13:1 allows for meaningful interactions and access to student services that will increase the value of your education and undergraduate experience.
The campus of LR is at the heart of Bear Nation. Once you visit, you will see that our students are dedicated, competitive, and friendly. Campus life allows for more than 60 co-curricular clubs and organizations, including intramural competitions. Known as the Bears, the University's athletic teams have been a longstanding source of pride and a vital part of student life with 22 NCAA Division II athletic teams.
Because of the spirited campus activity, many of our students call LR their second home. The heartbeat of our University is the feeling you belong here – from day one, throughout your college experience, at graduation – and beyond.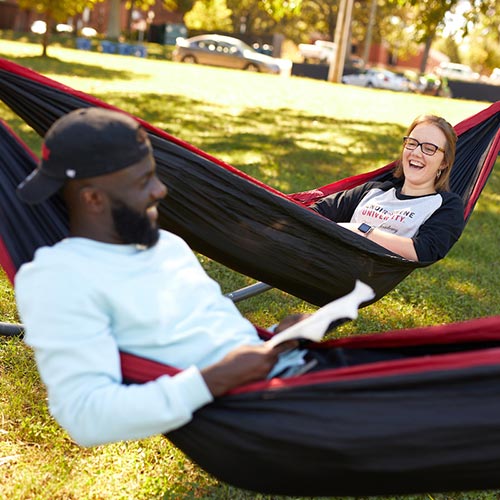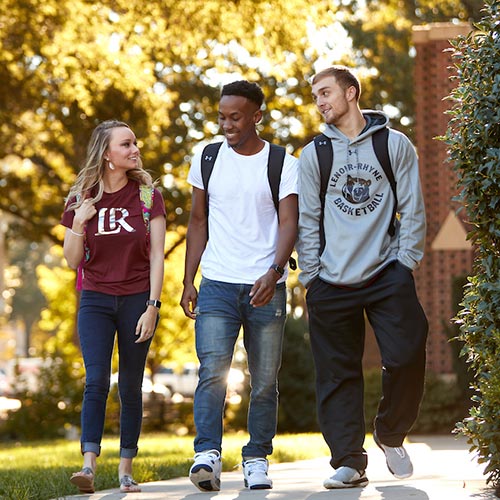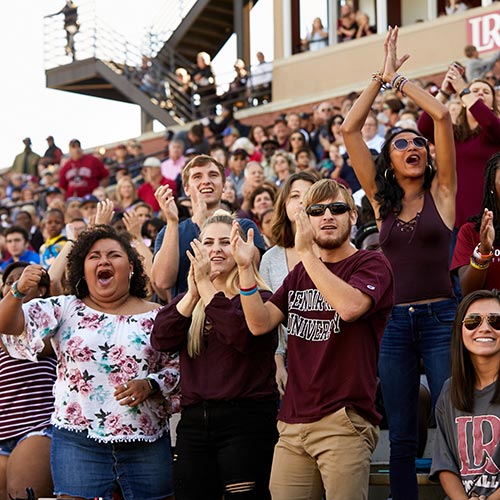 About
Lenoir-Rhyne University opened its doors in 1891 when four Lutheran pastors wanted to create a school for young people to receive a sound education based on religious principles and Christian values. The doors to the one-room school, then called Highland Academy, opened with 12 students. In 1895, the college assumed its first official synodical sponsorship which continues today with the North Carolina Synod of the Evangelical Lutheran Church in America. The original property, a 56-acre tract one-mile north of the Hickory business district, was part of the estate of a Watauga County lawyer Walter W. Lenoir. Before he died in 1890, Lenoir donated the land as a campus for a church-sponsored college. The school officially opened on September 1, 1891. It carried the name Highland College, but four months later it was chartered under the name of Lenoir College in memory of the donor of the land. The college became Lenoir-Rhyne in 1923, in honor of Daniel E. Rhyne, a Lincoln County industrialist who boosted the endowment and other assets of the institution. The college was admitted into the Southern Association of Colleges and Secondary Schools in 1928. The end of World War II brought an influx of students, boosting enrollment from 407 in 1945 to 843 in 1947. In the late 1960s, the college initiated long-range plans to enrich the quality of its curricula and has never looked back. Major improvements in the academic calendar were implemented. New courses were offered and joint degree programs with other institutions were added. Student personnel services were expanded, new buildings were constructed and others were renovated. The campus almost doubled in size and the endowment hit new highs.
Mission
In pursuit of the development of the whole person, Lenoir-Rhyne University seeks to liberate mind and spirit, clarify personal faith, foster physical wholeness, build a sense of community, and promote responsible leadership for service in the world. As an institution of the North Carolina Synod of the Evangelical Lutheran Church in America, the University holds the conviction that wholeness of personality, true vocation, and the most useful service to God and the world are best discerned from the perspective of Christian faith. As a community of learning, the University provides programs of undergraduate, graduate, and continuing study committed to the liberal arts and sciences as a foundation for a wide variety of careers and as guidance for a meaningful life.