Giving a Darn About Prioritization
This article stresses the importance of being proactive about priorities.
By Xavier Royer — November 21, 2022
---
In chess, many games end before checkmate. Either player may resign at any time for any reason. Resigning actually becomes more common as the players involved are more skilled. It may seem counterintuitive: shouldn't stronger players have more strategies available to work themselves out of a jam? Wouldn't they be better served fighting until the bitter end?
While this is true, there are many reasons chess players will simply resign when they feel they are too far behind. The reasons run the (queen's?) gambit from the etiquette of not dragging on a game under the hope of an opponent making a severe mistake to strategic reasons of avoiding revealing a strategy to an opponent for future games.
I write about time management in many of my previous articles. A core tenet of managing time is prioritizing it effectively. Consciously or not, people prioritize every day whenever they make decisions. For example, consider a student's options in an hour gap between two classes. They can get food, take a nap, start homework, or browse social media. What the student chooses demonstrates how they prioritize. Successful people, especially students, understand that prioritization needs to be conscious, not subconscious.
Students should actively set priorities and design a routine around working towards those. Note what exactly a student chooses to prioritize is entirely up to them. There is no right or wrong priority or goal. Rather, this article stresses the importance of being proactive about priorities.
Conscious Prioritization
Outside of conceding, chess is an excellent analog for discussing prioritization. Expert chess players are excellent at understanding their priorities. For a cinematic example, refer to the chess game played by Robert Downey Jr.'s Sherlock Holmes, who sacrifices his queen, the most powerful piece, for a strategic advantage that allows him to win the game.
Another excellent film that showcases conscious prioritization is Moneyball, which tells the story of the Oakland A's switch from prioritizing qualitative player features to favoring more narrow quantitative aspects, particularly on-base percentage. In both cases, the protagonists understand the importance of prioritizing the elements that would help them achieve their goals (a better chess position or higher on-base percentage players) over pieces that were nice but not essential to winning (keeping the queen or flashier players).
The lesson for everyday life is ensuring that the activities we prioritize help us achieve our goals. For example, many students get very hung up on the grammatical element of their papers and spend lots of time focusing on that aspect. As a grader, I rarely, if ever, remark on sentence-level errors. More often, when I have to deduct points, it is because of things I have specifically pointed out in the assignment guidelines. This does not mean grammar isn't important. Rather, the point is to read syllabi and instructions carefully. Good instructors will tell students what they expect. However, many students overlook these expectations for ones they have imagined or are carrying over from other classes.
Don't Follow the Crowd
Another mistake many make when prioritizing effectively is assuming they must adopt the same priorities as their peers. While there are some activities almost all students should prioritize (getting assignments in on time, for example), there are often many different strategies or combinations of strategies that can lead to becoming a successful student.
For example, there is no one correct way to take notes or use them. As a student, I used to take notes in class and then, with few exceptions, never look at them again. Part of this was possible because my field tends to be more paper-heavy than test-heavy. Taking notes was to help me wrestle with ideas in class and was enough to add those ideas to my mental toolbox for later use.
My notes contained partial phrases and the occasional swear word. Other, also successful students took beautiful, expertly organized notes that they would review later to ingrain into their knowledge base. Myself and my more traditionally organized peers found success, but we would have failed if we had swapped systems. If I had tried to adopt their approach, I would have lost my focus on the organization and ignored the content entirely. Had they taken my more chaotic approach, they wouldn't have been able to make heads or tails of the info when they reviewed it later. My peers and I had the same goals in the class, but we had to prioritize different learning styles in the classroom.
Priorities are important for everyone, but especially students. The number of choices college students get compared to what high school offers is huge. Managing that freedom can be a challenge. Many students who struggle with this often need to be more conscious about their priorities and use their time in ways not best suited to meet their goals.
Self-Care Too!
One final piece of advice I will use to conclude this piece is to ensure this article is not misunderstood. Priorities include activities that revolve around the classroom and taking care of oneself. It is okay to prioritize rest, nutrition, and social life. The trick is to prioritize those things consciously. There is a difference between planning to watch a few episodes of a favorite show with dinner and accidentally losing three hours to a YouTube rabbit hole. With prioritization, intentionality is always the key. Those who master this will gradually notice their life become less chaotic.
I am currently a full time instructor at a William Penn University, a small private university in Iowa. I am the lone political science faculty member there. In my time teaching, I have already connected with an incredible cohort of students in ways I could never have expected. Partnering with SAGE will allow me the opportunity to help even more students across the globe navigate those tricky questions.
February 2, 2023
This article discusses the challenges that art majors must overcome to make their passion a career.
February 2, 2023
While there is no wrong way to visit a college, you want to make the most of your visit. This article will act as a guide for your college visit.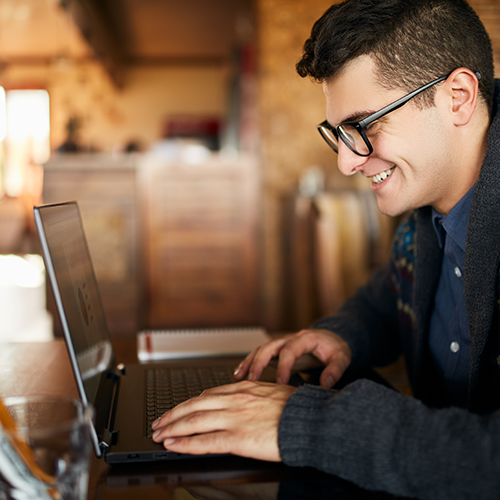 February 2, 2023
If you have been selected for verification, chances are that you didn't do anything wrong and just need to complete a few steps to get your financial aid back on track.