Zero Waste Swaps for College
We hear a lot of conversation about this impending climate doom, but what can we do about it? With just a few zero-waste swaps, your everyday decisions can contribute towards a healthy, preserved environment for the future!
By Justina Thompson — December 14, 2022
Tags:
Activism
,
Campus Connect
,
Composting
,
Earth Friendly
,
Food Shopping
,
Health Lifestyle
,
Healthy Habits
,
Leftovers
,
Plastic Free
,
Recycle
,
Reduce and Reuse
,
Student Advocacy
,
The More You Know
---
The end of the semester is always a good time for reflection — around grades, extracurricular activities, balance between work and rest, and general lifestyle habits! The break in between is a great time to set new goals, and starting small is a great first step! We hear a lot of conversation about this impending climate doom, but what can we do about it? And how does this connect back to lifestyle changes? With just a few zero-waste swaps, your everyday decisions can contribute towards a healthy, preserved environment for the future! Let's start with shifting some gears about what to do with waste by thinking of how to prevent it in the first place!
It Starts With Shopping
I love a good glass jar. There are infinite uses depending on the size, but you can take one with coffee to go in the morning, use it for overnight oats, bring a new minimalist pen holder to your desk, or pack up the leftovers!
The ideas for such a wide range of uses come from having so many clean jars lying around. When shopping at the grocery store and going for peanut butter or pasta sauce, try going for one packaged in a glass jar! This gives you many options for the jar's second life, but if you choose not to keep it in your home, it is much easier to recycle than plastics! What can you imagine in addition to your dorm or apartment with a reused jar?
If we shift to the produce section, let's keep ditching the plastic! The bags kept right by the broccoli, peppers, etc., are tempting, but a good reusable produce bag or a cloth tote is even better! Some grocery stores have mesh produce bags available in the same section, which is a small investment for a big impact! You can even rinse your veggies in these (mesh) bags to save on prep time!
With dried goods, all-paper packaging is similar to glass, but if you can find a store with a bulk goods section, this is the jackpot! A bulk goods section can provide reusable containers or ask that you bring your own to fill with items like oats, grains, beans, etc. When you go to checkout, they will weigh what you packed away (minus the weight of the container), and now you have delicious ingredients for your next dorm potluck with way less impact than a traditional grocery trip!
Farmer's Markets
Farmer's Markets and local fairs are the next best way to reduce waste and contribute to your local economy. Sometimes waste is created before the final product reaches us. Although we can't always avoid it, there are a few conscious steps you can take-including shopping locally. This step lessens the transportation needed to get goods to you, reducing gas emissions. While emissions are another form of waste we may not think about daily, they certainly have an impact, especially on the air we breathe.
Don't know if these options are available to you around your campus? This can open a great opportunity to explore and connect with campus staff, faculty, and peers! This could be a chance to bring a small market to your campus or work with a student union or clubs association to get reusable bags distributed to students!
Dinner! Yum! But What About the Leftovers?
One of the most overwhelming things of freshman year has to be all the options when you first enter the dining hall! After the initial hype settles down, what does it look like to eat consciously to produce less waste? Smaller portions, even if this means more trips up to the hot plate, help to reduce food waste in big cafeterias drastically.
Although some schools have them, it is rare for school c afeterias to partner with a composting system. If this were the case, some food scraps would be able to decompose into a really nutritious soil intentionally! The school could use this to support a school garden, general landscaping, or even share with the neighboring community. Some school cafeterias and dining halls offer a three-tier trash system, calling for students to separate their compost, recycling, and trash. With a bit of education, this is a great way to shift the mindsets of an entire student population around waste! What might it take for this to be successful at your school?
If it doesn't already exist, getting these systems and programs established at your school can be a journey, but don't be discouraged! Lean on your friends who have shared interests, and ask a trusted professor or staff member to guide you toward an administrator who may be able to take your idea a few steps further. Research is your friend, and being able to show that there is interest in greater campus changes or that st udents are already engaged in zero-waste practices will only support your quest!
For composting specifically, students can start small in their rooms and halls! For collection, all you need is access to a freezer, which will slow down the decomposition r ate and keep the stinky food smells away! Keeping a small plastic bag of orange and banana peels, egg shells, and apple cores is an excellent base for a compost pile!
Beyond this step, there are many options, but the simplest is to gather two five-gallon buckets, one with wood chips and an empty one to build your compost! Layering 'browns' and 'greens' (the food scraps with wood chips) allow for a balanced and healthy compost! You can leave these buckets outdoors and check on it once a week to aerate (by mixing or stirring). In no time, you'll have super nutrient rich soil for planting new food!
The Easiest One of All...
Remember your reusable water bottles! This is one of the easiest switches you can make as a college student to reduce your waste, AND you can decorate it with stickers!
Which one of these zero-waste swaps do you think you'll try? Will you share one with a friend, too?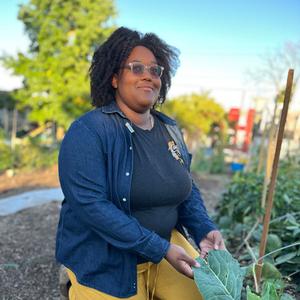 Justina "Farmer J" Thompson is the Farm Education and Volunteer Manager at Urban Creators, Philadelphia, PA. Justina intentionally attended school in Philadelphia so she could "connect her passion and experience to the ongoing environmental justice work in the area." As a speaker, educational curriculum designer, program leader, and community organizer, Justina possesses extensive knowledge on urban farming inspired to work in the field of environmental justice from a young age.
March 28, 2023
A student-run greenhouse on a college campus is a fantastic way for students to engage in sustainability issues and acquire hands-on experience.
March 27, 2023
Hanging up the cleats can be incredibly tough. This article will advise on how to make the most productive transition.
February 22, 2023
Traditional team sports are not an option for many homeschooled families. This article discusses the benefits of having your child play sports before sending them off on their own.