Financial Aid Material to Consider
This article lists the types of student aid provided for readers to consider, along with supplemental information from student aid websites.
By Lynne Blumberg — February 22, 2023
---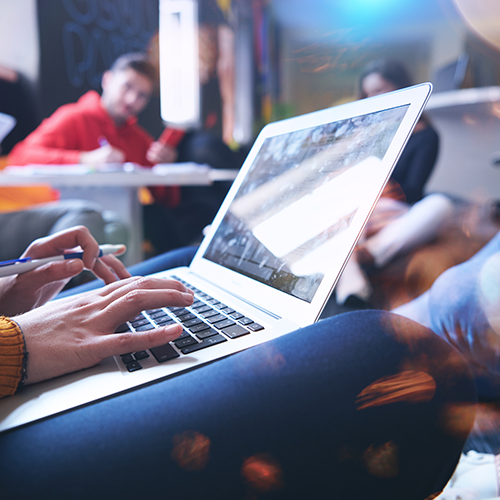 After accounting for the Tuition Rewards discounts, students and their families may calculate they need additional financial assistance for an academic year. Assembling financial aid from several sources is a common practice. Chrissie Klinger, Workforce Development Specialist at the Institute for the Study of Adult Literacy at Penn State University, compared a student's financial aid package to patching together a quilt. How these quilts are patterned will vary for each student. One student may get funding from two sources, another from eight. Her two children, for example, were student athletes with the same high school GPA's, and similar SAT scores. Nonetheless, when they entered Penn State, they wound up with very different financial aid packages.
Federal government
assistance is provided in grants, work study jobs, and loans. To apply for this assistance, a student completes a Free Application for Federal Student Aid (FAFSA). From the information on the application a Student Aid Report (SAR) is created that estimates a student's eligibility for federal aid for an academic year. For more information about federal student aid, go to:
https://studentaid.gov/
Work Study Jobs
are funded by the federal government in the form of part-time jobs. While federal grants and loans typically pay for tuition, room and board, these jobs assist with day-to-day expenses like transportation and school supplies, The Federal Student Aid website advises those interested in work study to complete their FAFSA early. The job openings may be limited, and a job search needs to begin ASAP.
State government
grants and loans are also available. In Pennsylvania, where this writer is residing, state financial aid can be applied for while completing the FAFSA. To find out which agency handles financial aid in your state, go to the following link and click on your state:
https://www.nasfaa.org/State_Financial_Aid_Programs
Colleges and Universities
may have their own scholarships, grants, and loans. Go to the financial aid office at your institution to find out what aid they have available and how to apply. Many of them require students to complete a FAFSA even if they will not be receiving federal aid. Schools use the SAR to figure out a student's eligibility for their own aid programs.
Scholarships
, like grants, do not have to be paid back, and many private companies and nonprofit organizations offer scholarships. The applications and eligibility requirements for these scholarships vary. For example, one scholarship may be awarded to students only of a specified background, another to those pursuing a particular field of study.
The list of available scholarships is long. Klinger recommended making an appointment with your high school guidance counselor for help researching which scholarships will match your profile. If you have been out of school for a while, counseling is available at your local American Job Center, United Way, or education foundations. In addition, your college financial aid office may know of other scholarships besides their own.
Employer Tuition Assistance
can be available for full-time, and part-time employees. Some employers advertise their tuition benefits to recruit employees. Others don't, and you will need to ask if any assistance is offered for schooling. You may be pleasantly surprised by your employer's answer.
Private loans
, such as loans with a bank or credit union, are similar to federal and state student loans in that they need to be paid back. However, these private loans may come with higher interest rates, less flexible repayment schedules, and will not be dismissed during a bankruptcy proceeding.
College Savings Plans
vary. A 529 college savings plan is a state-sponsored plan that helps with education costs. Other types of plans are available through banks. To learn more about the 529 College Savings Plans, go to:
https://www.collegesavings.org/
Tuition Payment Plans
are offered at many schools and a SAR may be required to determine a student's eligibility.
Aid for International Study
is available for students to study abroad for a semester, or all four years. Federal financial aid is available for international schools that participate in our government's federal student aid programs.
Awards for Community Service with AmeriCorps
enable students to participate in community projects and be compensated with education awards. These awards help pay for current education expenses, or education expenses that will be incurred in the future. To learn more about Americorps, go to:
https://americorps.gov/
Aid for Military Families
is offered by the federal government and nonprofit organizations. Check with local community organizations or a counselor at your American Job Center to learn what aid is available and how to apply.
Aid for Native Americans
is offered by several programs. Learn more about them by contacting local community organizations, or a designated representative at your American Job Center.
Education and Training Vouchers (ETV) for former and current foster care youth
assist foster youth and young adults with college and training costs. Contact the Foster Care Manager at the Child Welfare Agency in your state to learn more about these federal grants.
Lynne Blumberg has worked as an educator and academic advisor. She enjoys sharing insider tips with students and their families, so they are unintimidated by college policies and procedures.
April 25, 2023
While transferring colleges can be a big transition, it doesn't have to be a stressful process. If you follow these simple steps, not only will you find the college of your dreams, but earn a degree that works for you!
March 22, 2023
While your answers about college aren't as straightforward as the average high school graduates, that does not mean that college is not an option for you.
February 22, 2023
Being denied loans may seem like a nightmare, but there are ways that you can prevent it and some steps that you can take if your application is rejected.