Can You Be Denied Student Loans?
Being denied loans may seem like a nightmare, but there are ways that you can prevent it and some steps that you can take if your application is rejected.
By Jessica Dickenson — February 22, 2023
---
Financial literacy and good financial habits are critical at every stage of a student's lifecycle. You may think that since you are in high school, you or your student's finances can be addressed later. Unfortunately, sometimes poor financial decisions can affect your college plans.
Students take it for granted that they will be awarded student loans to help pay for their college tuition. With the familiar banter about paying off loans after college, it sometimes seems like student loans are a guarantee. Although it may not be talked about, it is possible to be denied student loans.
Being denied loans may seem like a nightmare, but there are ways that you can prevent it and some steps that you can take if your application is rejected.
Why Are Applications Denied?
Applications are denied for a variety of different reasons, and it truly depends on your specific application. According to the office of federal student aid, some applications can be denied because applicants did not meet the basic eligibility requirements. These include:
Having demonstrated financial need for need-based federal student aid programs
Being a U.S. citizen or an eligible non-citizen
Having a valid Social Security number
Being enrolled or accepted for enrollment as a regular student in an eligible degree or certificate program and being enrolled at least half-time to be eligible for Direct Loan Program funds
Maintaining satisfactory academic progress in college or career school
Signing the certification statement on the Free Application for Federal Student Aid (FAFSA) form stating that you're not in default on a federal student loan, you do not owe money on a federal student grant, and you'll only use federal student aid for educational purposes
And showing you're qualified to obtain a college or career school education.
Additionally, the federal government will not issue any federal student loans to applicants that are incarcerated in a federal or state facility. Other convictions may affect your student loan eligibility.
Direct PLUS Loan
Most people can meet the general eligibility requirements listed above, but parents of students, professional students, and students interested in graduate school may run into issues if they apply for a Direct PLUS Loan. A Direct PLUS Loan is commonly referred to as a parent PLUS loan when made to a parent, and as a grad PLUS loan when made to a graduate or professional student.
In addition to the general eligibility requirements, a Direct PLUS loan requires you to have a positive credit history. This credit check is not the same as the kind of check you'd go through for a car loan or a mortgage. For this check, your credit history is considered "adverse" if you've had specific kinds of credit problems. Your account may be labeled as "adverse" if you have any notices on your credit report such as:
Delinquent accounts, charged off, or in collections
Accounts in default
Recent bankruptcy discharge
Recent repossession or foreclosure
Wage garnishments or tax liens
You may also be denied a federal student loan if you've defaulted on a federal loan previously.
I've Been Denied Student Loans. Now What?
Whether you have been approved or denied student aid, you can access your Student Aid Report(SAR) online. This report will not only provide estimates for your eligibility but also inform you why you were denied specific aid. This should always be the starting point before you act on anything since your course of action will greatly depend on why you were denied.
If you do not meet any of the general requirements, you can:
Take steps to become a citizen or obtain eligible non-citizen status
Improve your GPA or take additional classes to meet your school's academic requirements
Attend classes at least half-time or change schools to meet the minimum academic requirements
Complete high school or a GED program
These are all general recommendations, but they will not be solutions to every issue. If you have any specific questions, you should always reach out to your school's financial aid advisor for more information and specifics about how you can remedy your particular situation.
What If I Was Denied PLUS Loans?
If you were denied PLUS loans, there are several courses of action that you can take.
Obtain an Endorser.
If you received an adverse credit score, you could still qualify for loans if you obtain an endorser. The idea is similar to a co-signer on an apartment lease: your endorser will not have an adverse credit history and agrees to pay back your PLUS loans if you do not after completing an
Endorser Addendum
. Parents, your endorser cannot be the student that you are borrowing for.
File an Appeal.
If you think that there is an error in your credit report, you can choose to
file an appeal
. However, be forewarned that filing an appeal is not as simple as clicking a button, you will need to support your claims with documentation or demonstrate the extenuating circumstances relating to the adverse credit history. You will need to complete PLUS Credit Counselling in addition to supporting your appeal.
Find Other Loan Options.
There are many
Direct Subsidized Loans and Direct Unsubsidized Loans
that the federal government offers students to help cover the cost of higher education. You can sit down with a member of the school's financial aid office to discuss which options would work best for you.
Find Other Resources.
If it is beginning to look like student loans aren't an option, you don't have to feel like you are trapped. Many scholarships, grants, and work-study programs can help you offset the cost of education. Your school may also offer resources to help students earn and save money to help save and finance their education.
The bottom line is that you should always be working towards improving your credit scores, which can make it easier to get approved for private student loans. Some of the best ways to improve credit scores include:
Make payments to monthly bills on time
Check your credit reports for errors and dispute any mistakes or inaccuracies you find
Reduce existing debt on credit cards, loans, or other lines of credit
Get a secured credit card to build a credit history if you have a thin credit file
Jessica Dickenson graduated from Wisconsin Lutheran College with degrees in English and communication. She has applied her abilities working as a young marketing professional for a local university but works as a freelance writer and photographer in her spare time. She currently resides in Milwaukee, Wisconsin with her husband.
April 25, 2023
While transferring colleges can be a big transition, it doesn't have to be a stressful process. If you follow these simple steps, not only will you find the college of your dreams, but earn a degree that works for you!
March 22, 2023
While your answers about college aren't as straightforward as the average high school graduates, that does not mean that college is not an option for you.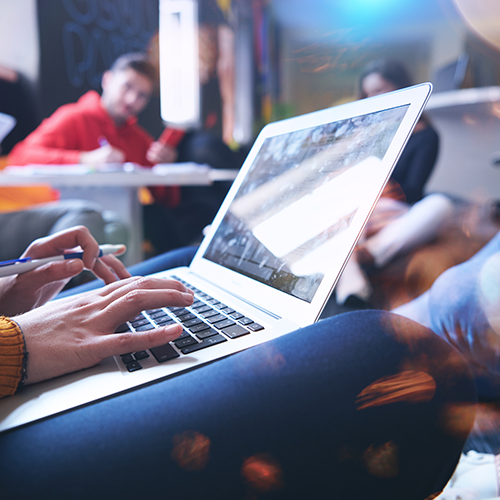 February 22, 2023
This article lists the types of student aid provided for readers to consider, along with supplemental information from student aid websites.