Do's and Don'ts of Coffee Shop Studying
If you're someone who chooses to study in a coffee shop, there are a few things to consider to ensure you remain productive. Here is a list of DO's and DON'Ts of coffee shop studying.
By Mackenzie Roberts — March 20, 2023
---
Studying can be a tedious and dreaded task. Many students often forget how significant of a factor our environment is when it comes to the effectiveness of our studying. Depending on who you are, you may have different preferences regarding what environment you like to study. You may prefer to hit the library or stay in your room. The local coffee shop is a third area of preference for many college students. Coffee shops provide a change of scenery and pleasing ambiance absent in the library or a dorm room. If you choose to study in a coffee shop, there are a few things to remember to ensure that you remain in tune and productive. Here is a list of DO's and DON'Ts of coffee shop studying.
DON'T: Over-Caffeinate
You cannot write about coffee shop studying without talking about over-caffeinating. It is easy to go through drinks quickly without notice when in the zone. Know your caffeine limit and cut yourself off. Over-caffeination can cause you to lose focus entirely. Let's face it, no one wants the coffee shakes while trying to get work done. Caffeine-free drinks are our friends!
DO: Have a Plan
A study plan is a good idea no matter where you study. It is especially important when you are headed to the coffee shop. Planning allows you to bring the correct materials (note cards, notebooks, highlighters) based on your study. Having an outline of how you will go about studying will also decrease the likeliness of getting off task!
DON'T: Choose a High-Traffic/Busy Coffee Shop
Unless you enjoy a noisy environment, avoiding the most popular coffee shop in town may be wise. High-traffic areas are places to avoid when it comes time to do your work. Select a coffee shop that has a quiet environment that allows you to work. Check out the place beforehand to ensure it will be a good location to study.
DO: Minimize Your Distractions
A rule of thumb when it comes to studying is to minimize any distractions. First, choose a location in the shop that does not have a lot of people in it, and that is away from the door. As you sit down and get out your study materials, put away your phone before beginning. Another thing you can try is noise-canceling headphones or a standard pair of headphones to reduce noise distractions.
DON'T: Try to Take a Major Exam
A coffee shop may be a good place to study for exams or complete weekly assignments. However, avoiding any major assignments and exams may be to your advantage. A coffee shop is a public place, and trying to complete something that requires one hundred percent of your focus or has a time limit will be difficult, given the inevitable passing through of other customers.
DO: Set a Time Limit
Setting a time limit is a good way to maintain your productivity. If there is no known end to your studying, it is easy to become discouraged. It may be helpful to assign time limits to certain tasks as well. When studying in a coffee shop, allot the first fifteen minutes or so to a task that does not require a lot of your focus, such as reviewing your notes. This is when you will be the least in the zone as you get comfortable in your space, drink your coffee, and scope out the scenery.
DON'T: Stay If It Is Too Noisy
Coffee shops can offer a great change of scenery as you get tired of the library or other workspaces on campus. However, know what environment you require to study and remain productive. You can always try it out and see if this is a place you enjoy, and if not, no harm, no foul!
Mackenzie Roberts is a senior at William Penn University majoring in History and Political Science. On campus, Mackenzie is an active presence, enjoying her roles as Student Ambassador and the Department Assistant for Social and Behavioral Sciences. Mackenzie loves college student life and expanding her knowledge on various topics.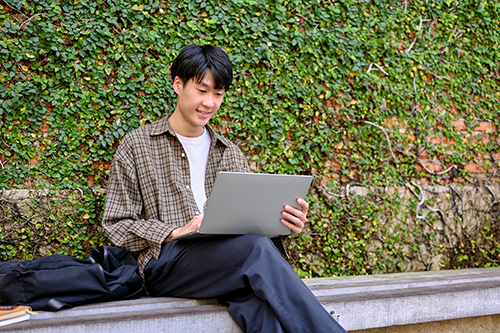 June 5, 2023
This article contains a few tips for writing an effective thank you letter.
June 5, 2023
The goal of this article is to at least put the idea in the head of students to look at summer as an opportunity to catch up and give themselves a much-needed break.
May 15, 2023
It can be challenging to find the perfect graduation gift. Here are some graduation gift ideas to consider.