An Undocumented Students College Plan
While your answers about college aren't as straightforward as the average high school graduates, that does not mean that college is not an option for you.
By Jessica Dickenson — March 22, 2023
---
According to the Pew Research Center, Over 10 million undocumented immigrants lived in the U.S. as of 2017. If you are a high school student who is undocumented — that is, you were born outside the United States and you're not a United States citizen or legal resident — you will probably have a lot of questions about college. First among your questions is "can I even go to college in the United States?"
While your answers about college aren't as straightforward as the average high school graduates, that does not mean that college is not an option for you. In fact, there are many answers and resources to help you not only get into college, but find support along the journey.
Yes! You can go to college
The biggest misconception of undocumented high school students is that they won't be allowed to attend college in the United States. This is completely untrue! No federal law prohibits undocumented students from attending college which means that there are colleges throughout the United States that will accept you regardless of your legal status.
That all being said, you should know that you may encounter a few setbacks that the average student may not expect. As an undocumented student, you face challenges, such as completing a Free Application for Federal Student Aid (FAFSA). These challenges are considerably greater if you don't have Deferred Action for Childhood Arrivals (DACA) status.You may encounter obstacles and setbacks as you make a college plan, but the good news is it is possible!
No, you don't receive federal financial aid
Unfortunately, undocumented and DACA students in higher education do not qualify for federal financial aid. This means you cannot apply for federal loans, grants, or scholarships and you may not be eligible for federally funded work-study programs. This can be a tremendous challenge as you make a financial plan for college.
Yes! You're still eligible for
other

financial aid

Although being ineligible for federal funding can be a huge blow, you are eligible for other financial aid. Many private schools, institutions, organizations, and individuals will provide scholarships and grants to undocumented students to help you finance college.

According to The Best Schools, if you are a DACA recipient, filling out your FAFSA form can help you determine eligibility for financial aid through either your university or your state. It can also help you prepare your application for private scholarships.

There are also a host of other sites dedicated to financial aid and scholarships for undocumented students such as:
Yes! You can choose your college!
If you thought that you only had a few colleges to choose from, think again!
According to a report from The Presidents' Alliance on Higher Education and Immigration, 81% of undocumented students attended public institutions, while 19% enrolled in private colleges and universities. While the top five states with undocumented students in higher education are California (94,000), Texas (58,000), Florida (40,000), New York (25,000), and Illinois (18,000), that does not mean that students are limited to colleges in these states.
According to the Higher Ed Immigration Portal, 23 states and Washington D.C. provide in-state tuition to the states' undocumented students while the other 27 have differing policies. The most restrictive states are Alabama, South Carolina, and Georgia, but that does not mean that undocumented students can't ever attend college in these states. Just like any other college student, you will have to do your research to see which colleges will allow you to apply and/or will provide you with support throughout your college education.
Yes, you'll have to ask how to apply
You will have to check with the college you are applying to see how they want you to complete an application. According to Informed Immigrant, some colleges will have you apply just like domestic students, while others will have to apply like an international student. You should always check with your admissions advisor to see what specific information they will need from you to complete your application.
Some schools may have defined policies on their website about undocumented students, but other colleges may be less clear. Don't be deterred from asking!
No, you are not alone!
Through all your experiences, remember that you are not alone! According to a 2021 Presidents' Alliance report, about 427,000 undocumented students are enrolled in postsecondary education in the United States. Of these students 90% are enrolled in undergraduate programs, and 10% percent of students are enrolled in graduate-level programs.
You may feel intimidated and overwhelmed, but don't lose sight of your goals. College is a big step for any young high school student, undocumented or documented, so be gracious with yourself. It is okay to be frustrated, but know that in the end, your goals are attainable!
Jessica Dickenson graduated from Wisconsin Lutheran College with degrees in English and communication. She has applied her abilities working as a young marketing professional for a local university but works as a freelance writer and photographer in her spare time. She currently resides in Milwaukee, Wisconsin with her husband.
April 25, 2023
While transferring colleges can be a big transition, it doesn't have to be a stressful process. If you follow these simple steps, not only will you find the college of your dreams, but earn a degree that works for you!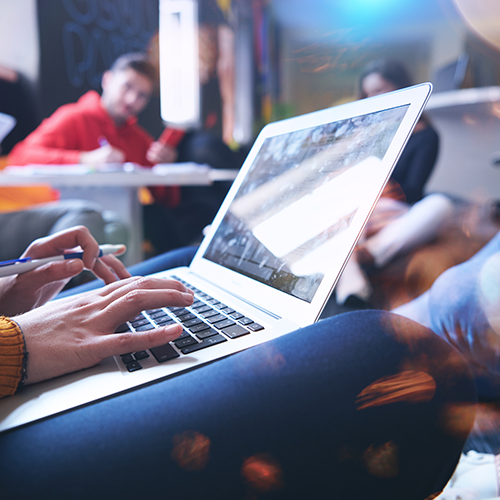 February 22, 2023
This article lists the types of student aid provided for readers to consider, along with supplemental information from student aid websites.
February 22, 2023
Being denied loans may seem like a nightmare, but there are ways that you can prevent it and some steps that you can take if your application is rejected.