Choosing Programs After the Fall of U.S. World News Rankings
You may have noticed the increasing, publicized backlash against U.S. World News' Ranking system. So, what does all this mean for the future of school rankings?
By Norrell Edwards — March 23, 2023
---
If you've paid attention to higher education news over the last year so, then you've likely noticed the increasing, publicized backlash against U.S. World News' Ranking system. Several elite institutions have decided to stop sending their data to U.S. World News—effectively dropping out from the system. The most dramatic shift has happened in legal education, with most (10) of the T (top) 14 law schools declining participation. So, what does all this mean for the future of school rankings?
Interestingly enough: both sides, U.S. World News and Deans of various higher education and professional programs claim their perspective supports equity. Schools claim the current ranking system methodology prioritizes all the wrong things. They feel the calculation is too focused on money, donors, acceptance rates, etc., without consideration of recent efforts toward diversity and inclusion. Law schools lamented how they were penalized for job placements in the public interest sector. U.S. World News argues their rankings help students choose schools and access data about schools that are otherwise very difficult to find. Both sides are true. The U.S. World News Ranking has become the most comprehensive ranking and information system for most higher education and credentialing programs.
When I applied to Ph.D. programs a decade ago—I simply picked all the top 10 ranked programs in African American literature by U.S. World News. I only received one acceptance, but all you need is one. Luckily, that choice worked out for me. I believe U.S. World News has a monopoly on higher education data that stifles the field in multiple ways. Elite schools claim the ranking system discourages them from picking talented students from lesser-ranked schools. The ranking system legitimizes and reinforces existing disparities and prejudices between higher and lower-resourced schools. The summer I attended Princeton, a professor candidly told my friend there were applications from certain schools they did not read regarding doctoral admissions.
We don't know if more schools will rebel, eventually putting U.S. World News rankings out of business. If it does, here are some tips to keep in mind:
Always start with finances and location
We are going to see (we likely already have since college enrollments have been declining since 2012) a return to more students attending in-state institutions and less movement. There's no shame in that. Prioritize programs close to family and community that will support you through your studies. Don't be afraid to be upfront about financial aid and need.
Consider licensing needs
For some career paths like law or therapy, there are state-specific exams that your school or program may have preparation expertise. Whichever state you'd most like to work in and be licensed in—go to graduate school there.
Always talk to existing faculty and students in programs of interest
There are some vibes you just can't catch from the website or even a one—time tour. Ask faculty, like Deans and Program Directors about placement information.
Check Association Websites
Many law school deans are sending prospective law students to the American Bar Association (ABA) for data on law schools. The kind of information different associations collect can vary. Getting familiar with and connecting to your field's biggest association doesn't hurt.
Norrell Edwards is a scholar, educator, and communications consultant for non-profit organizations. Her employment experience and research interests place her work at the nexus of global Black identity, cultural memory, and social justice. Norrell graduated with a BA in English Literature from Hunter's College followed by a PhD from the University of Maryland, College Park in 20th and 21st Century Black Diaspora Literature.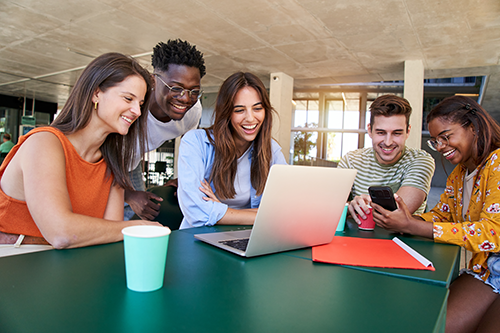 June 5, 2023
As illustrated in previous articles, there are so many valuable skills and lessons to be learned by participating in school clubs and organizations. As an organization leader, you have the ability to see things from a different perspective.
June 5, 2023
This summer, be sure to take time to rest and regroup for the incoming academic year — you've earned a break after your hard work. Once you're ready to tackle the next challenge, consider adding some of these activities to your schedule, so that you can set yourself up for success next semester and each day of the summer ahead.
June 5, 2023
This article compiles advice from chronically ill, disabled, and mentally ill individuals and applies that advice to the topic of college roommates. To learn more, talk to and learn from disabled people and disability advocates.