Budget-Friendly Spring Break Ideas
Having a great spring break doesn't have to be a costly affair. You can still have a memorable and enjoyable break without damaging your finances by choosing budget-friendly options.
By Mari Whitmore — March 23, 2023
---
Spring break is an exciting time for college students to take a break from the academic grind and have fun. However, the cost of traveling and partying can quickly add up, which makes it impractical for many students to embark on the stereotypical spring break beach trip of their dreams. Fortunately, many budget-friendly options exist for students looking to make the most of their spring break without breaking the bank. Keep reading for some affordable spring break ideas for college students!
Take a Road Trip
Taking a road trip is an excellent way to travel on a budget. Instead of spending money on flights and hotel rooms, you can save by driving to your destination and camping or finding other low-cost accommodations. There are many beautiful scenic routes across the country that are perfect for road trips, such as Route 66, the Pacific Coast Highway, and the Great River Road. Depending on what area of the country you're in, you may find great adventures only a few hours drive away.
Go Camping
Camping is a great way to enjoy the great outdoors and get away from the stress of school. National and state parks offer affordable camping options, and many have amenities like bathrooms, showers, and picnic areas. You can go hiking, fishing, or simply relax in nature. Camping is a budget-friendly option that allows you to disconnect from technology and spend quality time with friends.
If you're into more complex outdoor hobbies, consider planning a backpacking, rock climbing, or biking trip. Spending time outdoors can be as simple or complex as you make it, and it is a great activity to do with your friends. If you're an experienced backpacker, consider leading a trip for a small group. Just make sure you follow any permitting or other requirements in the area, adhere to safety standards, and practice "Leave No Trace" principles to keep your impact on the local area as minimal as possible.
Look Into House Sitting
If you want a more comfortable place to stay than a tent but don't want to break the bank on a hotel room, consider house and/or pet sitting. Many house-sitting gigs are paid, while others may offer a free place to stay (sometimes with a fully-stocked fridge!) in exchange for basic responsibilities. There are online communities you can join to find unique opportunities that may allow you to explore a new place on a budget, or you can find connections in your local area for a staycation. You may find a professor or other college connection looking for pet or house sitters over spring break.
Remember that most homeowners are looking for quiet, responsible sitters who will take great care of their property, so make sure you can fulfill your end of the agreement to ensure you and the owners have a great experience.
Volunteer
Volunteering during spring break is a meaningful way to give back to the community and make a difference. Many organizations offer volunteer programs that provide free room and board in exchange for work; some may even include travel costs. See if your school has volunteer initiatives or if they can put you in touch with local opportunities. You can volunteer at a national park, a wildlife sanctuary, or a community service project. Volunteering can be a rewarding experience that allows you to positively impact the world.
Staycation
If you don't want to travel and are looking forward to a relaxing (and cheap!) spring break, consider planning a "staycation." A staycation is a vacation spent at home or in your local area. You can treat yourself to a spa day, try a new restaurant, or binge-watch your favorite TV shows. You can also use the time to catch up on schoolwork, get organized, or start a new hobby. A staycation can be a great opportunity to reset your priorities and goals for the rest of the semester and mentally prepare for the busy season of final exams that's coming up.
You can also explore your city or town and discover new places. Look at your city as if you've never been there before and research things to do and see. Especially if you're attending college in a different city than you grew up in, there are likely many attractions and things to do that you haven't had time to explore during the busy school year. Visit local museums, parks, and restaurants. Go on a bike ride or a hike in a nearby state park. You might be surprised at how much to do in your backyard.
Plan Local Gatherings
If you're staying at home or in your local area for spring break, consider having a potluck dinner or other fun gathering with your friends. Ask each person to bring a dish or drink to share, and have a fun night in. Or, switch it up and have a potluck brunch! Make pancakes or waffles with fun toppings and spend time relaxing and catching up. You can also plan other low-cost activities, like a game night or a movie marathon. Spending time with friends doesn't have to be expensive.
Join a Group Tour
Group tours can be an affordable way to travel and see new places. Many tour companies offer spring break packages, including transportation, accommodation, and activities. You can join a group tour with other college students and make new friends while exploring a new city or country. While this option can get expensive quickly if you're not careful, you can research and find tours that fit your budget and interests.
Take Advantage of Student Discounts
Many businesses offer student discounts that can help you save money on your spring break activities. Look for discounts on flights, hotels, rental cars, and activities. You can also use your student ID to get discounts on food, entertainment, and shopping. Many museums offer reduced prices or free passes to students with ID's. Take advantage of these discounts to stretch your budget further.
Plan a Budget
No matter what you decide to do for spring break, it's important to plan a budget. Set a spending limit and stick to it. You can use budgeting apps or spreadsheets to help you keep track of your expenses. Don't forget to factor in all your costs, including transportation, accommodation, food, activities, and souvenirs. Planning a budget ensures you don't overspend and end up in debt after spring break.
As you can see, having a great spring break doesn't have to be a costly affair. You can still have a memorable and enjoyable break without damaging your finances by choosing budget-friendly options. Whether you take a road trip, go camping, volunteer, or explore your city, plenty of affordable options exist. Remember to plan a budget, take advantage of student discounts, and, most importantly, have fun!
Mari Whitmore recently graduated from a tiny private college in the middle of beautiful Wyoming. She spends her time traveling, adventuring in nature, writing, and working as a barista and bartender. Recently, Mari relocated to the gorgeous hill country of Central Texas. In her free time, she loves to hike, paddleboard, read, paint, watch movies, and gather with friends and family.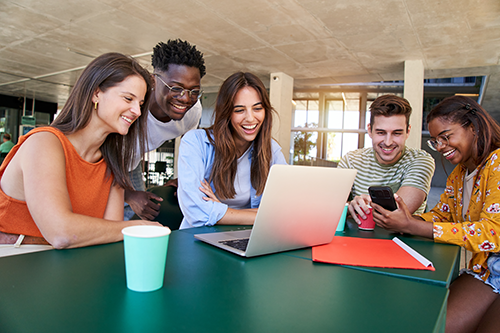 June 5, 2023
As illustrated in previous articles, there are so many valuable skills and lessons to be learned by participating in school clubs and organizations. As an organization leader, you have the ability to see things from a different perspective.
June 5, 2023
This summer, be sure to take time to rest and regroup for the incoming academic year — you've earned a break after your hard work. Once you're ready to tackle the next challenge, consider adding some of these activities to your schedule, so that you can set yourself up for success next semester and each day of the summer ahead.
June 5, 2023
This article compiles advice from chronically ill, disabled, and mentally ill individuals and applies that advice to the topic of college roommates. To learn more, talk to and learn from disabled people and disability advocates.