Who Can Access Your Medical Records? A HIPAA Explainer
This article will help you understand your rights regarding your personal medical information.
By Al Dickenson — March 28, 2023
---
Like FERPA, HIPAA laws are very important to understand. HIPAA, otherwise known as the Health Insurance Portability and Accountability Act of 1996, is one of the major pieces of legislation that keeps your medical records private from anyone trying to view them, be they parents or guardians, school administrators, or anyone else. Though it may not be often college-aged individuals may need to use medical information to plan for life-changing or life-saving care, it is always best to be prepared and to know your rights regarding your personal medical information.
According to the CDC, HIPAA is a federal law that, in 1996, required the creation of national standards to protect sensitive patient health information from being disclosed without the patient's consent or knowledge. Today, the law is administered by the federal Department of Health and Human Services. HIPAA also has other uses, like how disclosed medical information can be used regarding surveys and other studies being conducted by medical professionals or health insurance providers.
HIPAA guards protected health information, otherwise known as PHI, from misuse. Protected information can include things like contact information (phone numbers, addresses, and so forth) and also personal information, like your health insurance provider, benefit eligibility, healthcare plans, and previous medical records.
As college students, it is important to know your rights regarding how your medical records can be accessed, especially if there are procedures or treatments being conducted that may be controversial. Just because certain individuals may not be able to access your records, does not mean others cannot. Even HIPAA protected medical records can be accessed by some individuals in certain situations. Below are a few of the ways private medical records can still be seen by others.
If you are or have been a victim of domestic, physical, or sexual abuse, the healthcare provider is allowed to disclose portions of your case and records to proper authorities. Likewise, law enforcement may be granted access or release information to best identify and locate individuals involved or otherwise connected with a crime, such as being a witness or in the case of death. If you are an organ donor, it is possible HIPAA protected information may be released before your cadaver is used.
Your healthcare provider and operations manager may be called upon to release sensitive information to other individuals or organizations involved in your care, such as other healthcare providers or insurers.
Workers compensation organizations and administrators may be able to gain access to sensitive information vital to their investigation and execution of benefits.
Students should also be aware that they can appoint personal representatives, oftentimes a family member, who can have access to HIPAA protected information. This personal representative can be crucial to providing you, the patient, with advice, or, in the case of a catastrophic injury, the proper care.
HIPAA laws are complicated and vital to understanding your autonomy in college or the workplace. The Department of Health and Human Services (HHS)'s website has a lot of great resources available to better understand HIPAA laws and regulations. The point of this 1996 act is not to totally insulate health and medical records from individuals or other associated parties, but to set up standards for how information is stored, utilized, and researched. State laws and employer policies should also be reviewed to best understand your rights regarding your private records. Regardless of whether you are still under the umbrella of your parents or striking out on your own as a financially independent student, it is important for you to understand these laws and how you can protect yourself and your information.
Al Dickenson graduated from Wisconsin Lutheran College with bachelor's degrees in history, communication, and English. He currently serves as an editor for an international equine practitioners' magazine in and around Milwaukee, Wisconsin, his hometown, where he lives with his wife.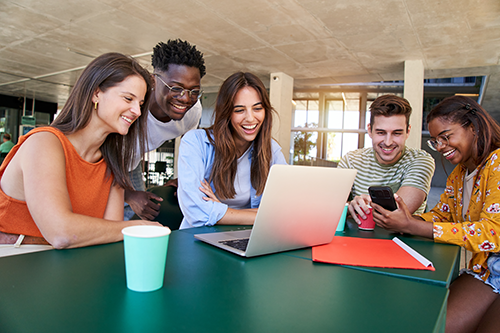 June 5, 2023
As illustrated in previous articles, there are so many valuable skills and lessons to be learned by participating in school clubs and organizations. As an organization leader, you have the ability to see things from a different perspective.
June 5, 2023
This summer, be sure to take time to rest and regroup for the incoming academic year — you've earned a break after your hard work. Once you're ready to tackle the next challenge, consider adding some of these activities to your schedule, so that you can set yourself up for success next semester and each day of the summer ahead.
June 5, 2023
This article compiles advice from chronically ill, disabled, and mentally ill individuals and applies that advice to the topic of college roommates. To learn more, talk to and learn from disabled people and disability advocates.