Six Ways College Students Can Incorporate Sustainability into Daily Routines
This article explores six ways college students can incorporate sustainable daily routine practices.
By Justina Thompson — May 15, 2023
---
Sustainability has become a crucial concern, and college students have a crucial role to play in promoting sustainable practices. The college environment is an ideal place to adopt and integrate sustainable habits because it fosters continuous learning and critical thinking. Incorporating sustainable practices into daily routines, whether in the dorm room or on campus, can reduce the environmental footprint and contribute to a healthier lifestyle.
As students gear up for the academic year, it's an excellent time to consider the small habits that can make a difference in protecting the environment. Additionally, incorporating sustainable practices does not have to be strenuous or time-consuming. Simple acts like using a cloth bag, turning off lights or carpooling can lead to significant carbon footprint reductions. These practices can also save money on energy bills, transport costs and increase focus on a healthy lifestyle.
This article explores six ways college students can incorporate sustainable daily routine practices, such as using eco-friendly personal care products, reducing paper consumption, or using public transportation, and promote sustainability. By following these practices, college students can become agents of change, promoting sustainability, protecting the environment, and leading the way to a better future.
Use Reusable Items
One of the easiest ways to incorporate sustainability practices into daily routines is using reusable items. For example, bring a reusable water bottle to refill at water fountains instead of buying plastic bottles. Also, bring a reusable coffee mug to decrease the number of disposable cups generated from coffee shops. Recycling is good, but it requires energy and frequently isn't as sustainable as using a reusable item. The US Environmental Protection Agency reports that approximately 30% of landfill space is taken up by plastic containers and packaging. Moreover, research shows that plastic waste can end up in oceans and harm sea creatures. As such, using reusable items like water bottles and coffee mugs can make a significant impact in reducing one's carbon footprint.
Use Public Transportation or Carpool
Another simple way college students could practice sustainability is commuting alternatives. Biking, walking, and public transportation can minimize greenhouse emissions. Those who drive alone can also minimize their carbon footprint by carpooling with friends or classmates. According to the US Environmental Protection Agency, transportation alone accounts for around 28% of greenhouse gas emissions—more significant than any other economic sector. Biking or walking provides an opportunity to get outside and exercise, whereas public transportation or carpooling offers flexibility and cost savings while also being eco-friendly.
Use Energy-Efficient Light Bulbs
Switching to energy-efficient light bulbs can also make a big difference. Energy-efficient bulbs like LED lights consume less energy than traditional incandescent light bulbs. The US Department of Energy has reported that LED bulbs use at least 75% less energy and lasts more than 25 times longer than incandescent lighting. Coupled with using natural lighting, such as opening blinds or curtains, this can minimize electricity usage and lower energy bills. Rewards include an extended lifetime for bulbs and a reduction in the need to replace often.
The use of eco-friendly products promotes environment-friendly manufacturing processes. Many non-eco products are packaged in non-biodegradable, single-use plastic containers, which contribute significantly to landfills and disrupt the environment. Eco-friendly products are often packaged in recyclable, biodegradable, or compostable containers.
Reduce Paper Consumption
Reducing paper consumption is another excellent way to incorporate sustainability into daily routines. Using digital devices to take lecture notes and assignments can reduce paper usage. Additionally, most universities use virtual learning systems like Moodle, Blackboard, or Canvas, that provide online course materials. These systems provide students and instructors an ability to communicate electronically and enhance learning engagement. Students could also use apps to study digital textbooks, which are more flexible, cheaper and environmentally friendly. If significant printing is a must, consider printing double-sided, which will cut paper usage by half.
Use Eco-friendly Personal Care Products
Most college students use personal care products, such as soaps, shampoos, or body washes. Choosing eco-friendly, wholesome, locally sourced or organically made personal care products is another way to practice sustainability. Consumers have become increasingly aware of the potential harmful effects of personal care products on their health and the environment. Many of the most common personal care products found in grocery stores or drug stores contain chemicals that are harmful to both people and the environment. Such hazardous substances, like parabens or sulfates, can contaminate water systems or the soil.
Using eco-friendly personal care products can have a positive impact on your health, specifically by reducing the risk of exposing yourself to potentially dangerous chemicals. Reading labels and researching the companies or brands that produce personal care products can provide insight into their environmental and societal impact. Eco-friendly and organic care products usually avoid use of hazardous substances, minimize waste and contribute to a cleaner environment. Conventional cosmetics often contain synthetic fragrances, preservatives, and surfactants, which can be absorbed through the skin or inhaled. Eco-friendly personal care products avoid such hazardous ingredients and often derive from plant-derived sources.
Reduce Meat Consumption
Lastly, opting for plant-based food or reducing meat consumption is another way to practice sustainability. According to studies by the University of Oxford, reducing meat consumption and purchasing meat-free products is one of the most effective ways of reducing one's carbon footprint. Supplementing meat intake with more fruits and vegetables can provide college students with nutritional benefits, and contribute to a healthier lifestyle. The meat industry, responsible for significant climate change contributions, releases methane, which is even more powerful than carbon dioxide in terms of heat trapping potential. Moreover, replacing meat with vegan alternatives is gaining popularity, which makes living sustainability even easier for individuals.
The production of eco-friendly and sustainable food consumption and production processes supports environmentally conscious farming practices. Organic or natural ingredients can often be locally sourced, which reduces the carbon footprint of transportation and supports local agriculture economically. By opting for eco-friendly produced food products, consumers can play their part in supporting sustainable practices and protecting the environment.
College students have the potential to make a significant difference by incorporating sustainability practices into their daily routines. The six ideas presented here: using reusable items, taking public transportation or carpool, utilizing energy-efficient light bulbs, reducing paper consumption, eco-friendly personal care products, and reducing meat consumption are just a few ways college students can do so. By taking on sustainable practices, college students can not only benefit the environment but also lead a healthier and more cost-effective lifestyle.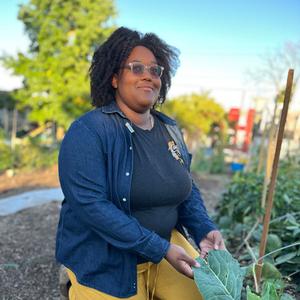 Justina "Farmer J" Thompson is the Farm Education and Volunteer Manager at Urban Creators, Philadelphia, PA. Justina intentionally attended school in Philadelphia so she could "connect her passion and experience to the ongoing environmental justice work in the area." As a speaker, educational curriculum designer, program leader, and community organizer, Justina possesses extensive knowledge on urban farming inspired to work in the field of environmental justice from a young age.
December 4, 2023
This article explores the benefits of education at a private research one university, highlighting the key elements that contribute to their reputation and innovation.
December 4, 2023
One of the pieces of feedback I have received from my students consistently is that they feel hopeless, because they see so many problems with the world and feel powerless to solve any of it. This article is my advice to those students.
December 4, 2023
Mastering the GRE requires a proactive and disciplined approach. By understanding the test, setting clear goals, and implementing effective study strategies, you can enhance your performance and achieve a competitive score.