Sometimes it's OK to Overpay
Budgeting is incredibly important, and I urge students to make and stick to one. However, there will be moments when going over budget is the correct call.
By Xavier Royer — June 20, 2023
Tags:
Back to School
,
Finances
,
Financial Health
,
Financial Literacy
,
Financial Management
,
Financial Wellness
,
Responsible Purchases
,
Smart Investing
,
Smart Saving
,
Smart Spending
,
Tech Purchases
---
As someone who grew up (and still is) lower middle class, I know with many the title to this article is going to be controversial. However, this weekend I had an experience helping my girlfriend purchase a new set of headphones, and I realized this represents an important lesson for soon to be or current college students. We went into the store with a budget of roughly $100. After trying on a few pairs at this store and others, my girlfriend walked out with the perfect pair... that cost $150. Budgeting is incredibly important, and I urge students to make and stick to one.
But there will be moments when going over budget and spending more than you would expect is the correct call. In this instance, my girlfriend was able to try on the headphones and sample them at the store. She knew exactly what she was getting and could walk out of the store with them in her hand. They also fit her excellently, sound excellent, and have great battery life. She plans on using them for at least five years, so it was important to get something she was satisfied with. She was hoping to get at least a few of those features for $100, but for the extra $50 she was able to get a perfect product. This article will give a pair of examples that, in my opinion, are worth spending a bit more on to get a lot of extra utility. Even if readers do not value these things as much as I do, they can hopefully still learn from the thought process that goes into evaluating purchases.
Backpack and Clothes
It is not an exaggeration to say that a student's backpack will become an extension of them. For many hours a day, students will live out of their bags. The family member who took me shopping for my college backpack urged me to get one of quality. I did not appreciate it at the time, but did after one or two trips across campus in the rain. I went for a big UnderArmour bag. Not only could it hold my stuff for all five classes and my tablet, but could keep my items dry in a downpour or snowstorm. This is a must if you are going to school in Midwest, and that bag worked for me for all five years. Clothes, particularly winter wear, fall into the same category. A good coat or jacket can make or break a day. If the product offers versatility and durability, then it is worth the extra money.
Tech
Do not get the most expensive laptop on the market. Do get the right tech product for what you need. I did my undergrad almost exclusively on a tablet that I treated as a Chromebook (before there were Chromebooks). It was snappy, and I paired it with a clickity-clackity keyboard that I liked. It did crash once at an inopportune time, but it was perfect for what I needed as a political science student. I liked it so much that I am typing this article on a Chromebook with a clickity-clackity keyboard. For the engineering students out there, you might need to get a beefy gaming computer with a solid graphics card for rendering reasons. Do research and apply your preferences. Like a backpack, you will be intimately close with your primary device over four years. Get something that lasts, but get something you will want to last. I would say five years is a good lifecycle on a device, so when buying, be sure this is something you will still like three to five years from now.
Take Care of Your Stuff
For those of us who might get a pit of anxiety in our stomach when thinking about spending an extra $50 or $100 on something, I do have a piece of follow up advice. If you splurge to get the perfect thing, treat it like the perfect thing. Growing up, I spent so much time on frustratingly outdated hardware that this Chromebook I'm using now is in excellent condition. This is because I have learned to value the nice things I have bought for myself. A key to the "overpay now" strategy is that in the long run you will save money because you won't need to replace it. Things will get outdated, but you can extend the lifespan of your big purchases by doing due diligence in maintenance.
I find there is also a "look good, play good" aspect to large purchases as well. If you care for your big purchases, you will likely get a bit of confidence and self-credibility. "I'm someone who takes care of the laptop, and now I'm gonna crush this essay on it." The inverse can also be true; "This slow, gunky laptop is annoying me, and now I am even more annoyed at this paper I have to write." So, go out and treat yourself! But, owe it to yourself to keep those things clean and functional so you can maximize your appreciation of them.
I am currently a full time instructor at a William Penn University, a small private university in Iowa. I am the lone political science faculty member there. In my time teaching, I have already connected with an incredible cohort of students in ways I could never have expected. Partnering with SAGE will allow me the opportunity to help even more students across the globe navigate those tricky questions.
August 2, 2023
This article breaks down current news and questions regarding student loan forgiveness.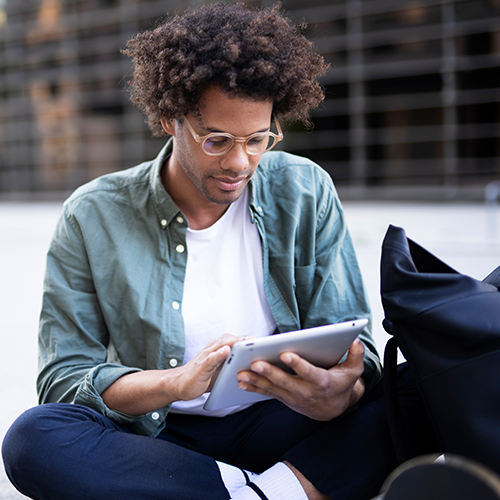 June 22, 2023
This article provides some advice on what to look out for, and what to avoid when it comes to long term commitments.
June 9, 2023
This article will look to give basic information on some of the new expenses students will become responsible for so students can begin wrapping their head around a new world of finances.