Understanding Environmental Justice Pt. 2
In part two of this series, we'll expand on how the environmental justice movement can hold many nuances.
By Justina Thompson — August 29, 2023
---
We're back with Pt. 2 of "Understanding Environmental Justice!" In this article, we'll expand on how the environmental justice movement can hold many nuances. These nuances take time and repeated exposure to understand with depth, but our introduction is a great way to get a glimpse of the extensive landscape. With education as the foundation for the next generation of leaders, dreamers, and innovators, who might address societies complex issues? This question urges us to create continuous spaces to learn and engage with the branches of environmental justice, and the challenges that each branch faces. For those considering careers grounded in the principles of environmental justice, gaining such an understanding in school supports a broader sense of knowledge and smoother application of skillsets outside the academic space.
Air
Although types of air pollution can vary between rural, urban and suburban communities, three main sources to follow are: cattle farming, transportation (ground and air), and industrial plants and factory hubs. Stemming some from policies like redlining and intertwined with other biases, placement of these sources are often seen in higher concentration near low-income communities and communities of color across the nation.
Dr. Robert Bullard, known as the Father of Environmental Justice, started his work around the placement of municipal landfills around Houston, Texas after finding all of them were placed in the immediate vicinity of Black neighborhoods. This pattern can be found for placement of other common sources of air pollution, especially in understanding the health complications faced by communities in close proximity to these sources. This factor is often exacerbated by the fact that these same communities lack ample tree coverage and green spaces to absorb some of that excess carbon/pollution to offset the impact felt by community members.
Remediation for this kind of harm starts with transparent communication towards communities and meaningful involvement in future land use and planning discussions which will immediately impact their neighborhoods. In some instances, this includes shutting down plants that have been shown to cause disproportional health impacts. This should always be followed up with continuous monitoring and community-accessible data so impacts to community health can be accurately tracked and documented.
Similarly, the frameworks offered around academic preparation around data and science, these fields can offer frameworks for communities to drive localized monitoring and reporting for air quality. With portable indoor and outdoor air monitors, providing direct resourcing for community control over this data production is a step towards the equitable community engagement needed for remediation, and will need technical assistance, likely from academia, in its initial phases of growth. Engineering fields will also be crucial in developing low tech solutions which can be built and repaired at the community level, since this will support long term sovereign data production. Starting with computer bases or using 3D printing for replaceable parts are great skills to transfer to community-control, while also teaching skills around electrical and computer engineering, coding, and digital modeling, and design.
Water
Water, the source of all life from plant to human rounds out this framing of spheres within environmental justice for this piece. In all it is life. It is a sacred source to be protected while also being a powerful force that reveals gaps in physical infrastructure and government-based systems for responding to emergencies. Clean water is a fundamental right that all people should have access to. They should not have to pay for access to water to drink, cook, and clean with. When there are barriers to paying water and other utility bills, this access should not be restricted or cut off, as it places disproportional restriction to access and negative impact for low-income people.
Even as these utilities are currently paid for, protection over these water sources are not always guaranteed. Unfortunately, we know this is true from the lead poisoning cases and related health impacts in Flint, Michigan, and seeing a lot of damage done due to the lack of response from local government systems and officials. Before the issue became prevalent, negligence of the infrastructure in this community around the sewer pipes set the landscape for this damage to occur. When there are one-off spills or instances of water contamination, local infrastructure must exist to communicate the danger to residents in an efficient manner that also shares a plan for support and action. This may include the time period for the expected impact and potentially distribution points to receive cases of water while household sources are unsafe to use.
When these natural water sources that feed into our households are contaminated, it also prevents access to blue spaces that support recreation, positive mental health, and personal connections to the natural surrounding environment of households. Combined sewage overflow can impact the safety of local creeks and rivers for swimming, kayaking, and other water-based activities which may directly expose the skim to the water. Combined sewage overflow occurs due to infrastructure combining the natural water and sewage pipes in case of excessive precipitation and flows over into local water sources, but this can also flood into roads and potentially households. Flooding is a strong threat to houses and neighborhoods built in vulnerable flood planes or that also lack infrastructural investment in their homes. This is another space where coordinated government response and support is needed, from the FEMA level to local municipalities. This includes access to knowledge around flooding, streamlined reporting channels, home repair programs or rebates, among other channels for response and follow up.
Design, marketing, and communication are all academic disciplines that will need to be brought into a coordinated effort to connect action and reports from the government levels directly to community members in ways that are accessible, and efficient. Especially when it comes to emergency procedures, visual signifiers in homes and throughout communities will make actions and guidance much easier. At one level deeper, Civil Engineering and Architecture will again have to bring forward an effort to assess the strength of local infrastructure and keep changing climates and threats of natural disaster present in design decisions for new developments and repairs.
As told by the threads above, almost every academic discipline has a direct role to play in the multifaceted approach needed to embody environmental justice int today's society. Prioritizing community access and engagement, determining and examining root causes of harm, and challenging the larger systems rather than one-off situations of impact are the beginning foundations to bring forward in your academic studies to start applied a justice-oriented lens to your learning journey.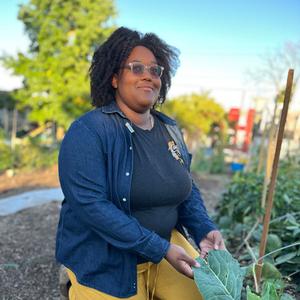 Justina "Farmer J" Thompson is the Farm Education and Volunteer Manager at Urban Creators, Philadelphia, PA. Justina intentionally attended school in Philadelphia so she could "connect her passion and experience to the ongoing environmental justice work in the area." As a speaker, educational curriculum designer, program leader, and community organizer, Justina possesses extensive knowledge on urban farming inspired to work in the field of environmental justice from a young age.
September 28, 2023
This article discusses the importance of understanding where you draw your ideological lines.
September 26, 2023
In this final segment, Imann and I discuss his burgeoning company and creating the workplace culture you want to see.
September 25, 2023
College to Career, Career Building, Career Readiness, Career Resources, From the Professor, Career Mentorship, Resume Building, Networking, Community Building, Government Jobs, Job Qualifications, Career Trajectories, Entrepreneurship, Industry Exposure, Intelligence Analyst