Back to School: Sustainable Fashion
This article explains a few ways to practice sustainability around fashion and clothing while at school.
By Justina Thompson — August 31, 2023
---
Returning to school we all want to look our freshest and best, but as we know, setting intentions at the beginning of a semester can help us do so in a way that's a little kinder on the Earth, and in the wave of sustainable fashion! Here are a few things to consider when getting your wardrobe ready or keeping it cute during the semester by getting more creative.
Sharing is Caring
Before you even leave to go back to school, this is a perfect time to start perusing around the house for some quality pieces a sibling or parent may have left behind. My mom's Howard Homecoming t-shirt was never of interest to me until earlier this year, and now it's one of my favorite 'vintage' pieces to wear around. I know my sister took a handful of my college clothes, and if I wasn't the oldest, I'd probably do the same. I even have some merch from a cousin's college reveal party.
These are mentioned to say reaching out to some family members to see if they have hand me downs or items you might be interested in is a great way to start the year off with a unique wardrobe that doesn't rely on fast fashion or exploitative consumer habits — of the earth or people! Another spin on this is sharing with friends once you get to school! As you are comfortable sharing your size with others, you can potentially even start sharing clothes with friends on campus! It may start with just a cute top for a party, but it ends up with a nice scarf for the winter season, it's a win-win! At any point in the semester, especially near seasonal changes, a great event to organize is a campus clothing swap. It can be within a dorm or even campus-wide, as long as there is a plan for any clothes left behind. This is a great way to create a small-scale 'circular economy' based in trade and extends the life cycle of a clothing item beyond one person's use!
Repairing
Repairing your clothes is another great way to extend the life cycle beyond what it might have been otherwise. Higher quality clothing items usually come with higher price tags. While it's great to invest in pieces, it isn't always feasible on a college budget. Knowing how to repair clothing is a great complement in this space where the clothing may be a little more prone to rips and tears. I'll never forget when I was in physics lab, and we were running momentum experiments on a racetrack that clipped my shirt and left a tear right in the chest area. The shirt was tie dye and has a nice alien decal in the center, and so adding a green stitch right above it really only added to the aesthetic.
That's how I convinced myself repairing my own clothes was cool. Repairing clothes can also come in handy when replacing buttons on shirts and jackets, or even patching holes in socks! Darning is a great way to gives socks extra support at the heel and ball of the foot, since they experience so much pressure and friction from the foot. It is a technique that weaves thread throughout itself to create a patch, covering up a hole or providing extra support to the sock, and can even be flattened out with a hot iron to merge better with the shape of the sock! Many quick tutorials for this specific repair can be found on YouTube and these kinds of repairs are easy new skills to learn!
Re-Creation
When clothes can't be worn in the same way anymore — i.e., they are past the point of even donating — using the same skills for repair to turn the old clothes into something new diverts it from the landfill and gives it an extended life, a piece crucial to sustainability in fashion and textiles.
While everyone knows you can crop a tee by taking in the waist and arms, what else can shirts be turned into besides another thing to wear? Depending on the need, I might suggest upcycling the shirt into a tote bag just by turning the shirt inside out, cutting the edges into strips, tying them together diagonally and flipping it back right-side out to trim the sleeves into handles. A perfect re-use for the witty graphic tee. Beyond this, a tee shirt can easily be mended in the same way with a pillow tucked inside to serve as a pillowcase. Even when it may be beyond the point of holding together its structure, turn the shirt into cleaning rags! Soaking in a glass jar with white distilled vinegar and a few drops of essential oils is a great natural cleaning solution with items you're likely to have around the house.
These are just a few ways to practice sustainability around fashion and clothing while at school, can you think of anything else you might want to learn or share with your peers in the realm of sustainable creation?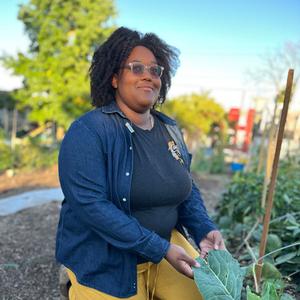 Justina "Farmer J" Thompson is the Farm Education and Volunteer Manager at Urban Creators, Philadelphia, PA. Justina intentionally attended school in Philadelphia so she could "connect her passion and experience to the ongoing environmental justice work in the area." As a speaker, educational curriculum designer, program leader, and community organizer, Justina possesses extensive knowledge on urban farming inspired to work in the field of environmental justice from a young age.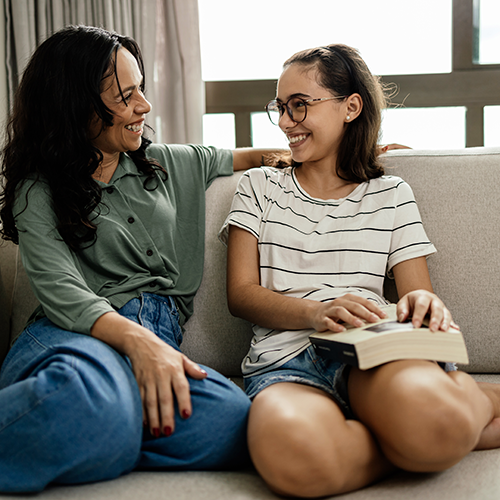 November 16, 2023
New or returning FAFSA applicants may see some new terminology as they revisit the online federal student loan process this year.
October 26, 2023
By embracing the SAVE Plan, parents can reclaim control over their financial destinies and ensure a brighter tomorrow for future generations.
August 2, 2023
This article breaks down current news and questions regarding student loan forgiveness.