Cottey College Joins SAGE Scholars Tuition Rewards
By SAGE Scholars — January 24, 2023
---
Cottey College, where an individualized Leadership Development Plan (LDP) is a curriculum ingredient for every student, has become the 14th women's college to join the SAGE Scholars Tuition Rewards college consortium.

Ranked by a national publication as the "Best Regional College in the Midwest" — #1 among 86 options — Cottey draws its 300+ undergraduates from 38 states and 17 nations to a 67-acre campus in Nevada, MO, 100 miles south of Kansas City. 72% of students are from out-of-state, drawn to a unique college where the average class size is nine.

There are no cramped dorm rooms at Cottey. At the three residence halls, students enjoy large suites that include a living area, kitchen, multi-unit bathroom, and bedrooms (single and double). Ten to fifteen students live in a suite, with a mixture of new and returning students.

Founded by Virginia Alice Cottey in 1884, The College offers 15 majors. Cottey is inclusive, supportive and welcoming. Leadership opportunities abound. The nine
NAIA varsity sports teams include eSports and flag football.

14 Missouri private colleges now participate in Tuition Rewards.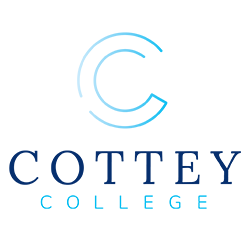 Cottey College
Cottey College is an independent, liberal arts and science college for women located in Nevada, Missouri. Its residential student capacity of 350 typically represents 40 states and 20 countries. Cottey is owned by the P.E.O. Sisterhood, an international women's organization of over 210,000 members, making Cottey the only nonsectarian college in the United States owned and supported by women for women.
At Cottey, our vision is what drives our excellence. We are one of the top small colleges in the nation because of our mindset. Cottey College is once again ranked as the #1 Best Regional College in the Midwest in the We have cultivated a diverse, supportive environment so that students can develop their potential free of the social pressure they feel at most schools. We want to educate women to be globally aware, socially responsible leaders through a challenging curriculum and dynamic campus experience.
We have a 7:1 student-faculty ratio, with an average class size of 9 to help her get acclimated to college and excel in the classroom. However, you know you can't take in the world just by sitting in a classroom, you have to see it! That's why Cottey offers our sophomore students a week-long international trip for free. The college pays for airfare, hotel, a bus tour, access to tour guides, and a farewell dinner in a nice restaurant. In 2023, Cottey students will travel to Vienna, Austria! In the past, Cottey has taken students to Barcelona, Florence, London, Madrid, Paris, Rome, among many others.
View profile