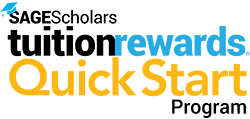 Start Building Rewards Today!
Have you received a Tuition Rewards QuickStart code? If so, enter it below to begin your account registration.
If you already have a Tuition Rewards account do not register again. Sign in to your account and redeem your new QuickStart code from within your account.
What are Tuition Rewards?
Tuition Rewards bridges the gap between students that want a private college education, but don't think they can afford one, and private colleges / universities that offer guaranteed tuition discounts.
A student's Tuition Rewards Points represent the guaranteed minimum amount of institutional financial aid (i.e. scholarships and/or institutional grants) that a participating college will award to the student. The student may receive more financial aid than the rewards points represent, but he or she will not receive less!