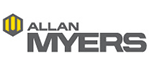 Start Building Rewards Today!
Welcome to the SAGE Scholars Tuition Rewards program registration through Allan Myers! The program is provided to you free, courtesy of Allan Myers. The registration process is quick and should take you less than a minute to complete.
How to Enroll
To enroll, enter your first and last name, ZIP code, and a valid e-mail address in the spaces provided below. The information entered should be your information - not a student's information. You will be able to add students to your account later during the enrollment process.
Eligible Students
Eligible students are students in your immediate or extended family (including "great, "grand", "step", "adopted" and "god" relations). Students must be enrolled by August 31st of the year that they student begins 12th grade.
Tuition Rewards® are NOT awarded in cash. Your Tuition Rewards Points represent "guaranteed minimum scholarships" redeemable for discounts off the "list price" of undergraduate tuition at participating 4-year private colleges & universities. 1 Point = $1.00. Points must be submitted at time of application for the freshman year. Participating colleges reserve the right to include Tuition Rewards as part of any financial aid package. Tuition Rewards are limited to a maximum per student of up to one year's tuition, spread evenly over 4 years, or as contractually agreed.