How to Overcome the Fear of Speaking in Class
How do you overcome a sense of dread about participating in class and vocalizing your thoughts? Here are five simple confidence boosters you can use to support and encourage yourself to speak.
By Sharon Callender — January 25, 2023
---
It's the first week of the new semester. You take your seat in your second afternoon class for the day. It is a popular course and a requirement for your major. The classroom is at maximum capacity, which means there are over fifty students in the large le cture hall. You've never taken a class with this professor before, and their syllabus indicates that class participation is tabulated into the final grade, and the percentage is relatively high. Since registering for this course, nerves emerged about talking in class. Most of your previous professors focused on exams and papers as the majority of the final grade. Participation was not on the radar at all, and if it was, it was worth a small percentage of the final grade. Now, you feel a twinge of anxiety hours before this class begins. You also feel added pressure since public speaking makes you cringe.
Ten minutes into the class, your professor asks a question based on this week's required reading. You have something to say. You pause, and hesitation kicks in. You decide not to raise your hand or blurt out your answer.
Has a situation like this or something similar ever happened to you?
It happened to me.
I was an extremely shy sophomore who transferred to the larger campus of my university. Once I learned how to overcome my fears, I thrived in that class.
If you've ever enrolled in a class and wanted to speak up, but a feeling of insecurity kept you silent, you may have experienced a sense of frustration with yourself, as I did in my sophomore year.
When we step outside our comfort zones—especially when it directly impacts our grades and academic success—we face a crossroads that can feel a bit scary. This crossroads also leads us to a place of positive change and growth. Public speaking is one of those uncomfortable scenarios. It can be a stress-inducing event for the most seasoned professionals, including corporate executives, salespeople making a big pitch to a potential client, and even professional athletes interacting with reporters during a press conference. At some point in everyone's life, we must express ourselves verbally to convey information to a large or small group.
How do you overcome a sense of dread about participating in class and vocalizing your thoughts or answering a question in which you know the answer? Here are five simple confidence boosters you can use to support and encourage yourself to SPEAK (Share, Participate, Express, Acknowledge, and Knowledge) the next time you struggle to be a part of a classroom conversation.
Share
One of the definitions of the word share is as a unique portion that one contributes to the whole. A share, like a share of stocks, is something that you own that is part of the collective company. Based on our unique experiences, backgrounds, and upbringing, each of us brings a special share or perspective to the table. No one will have an identical one. Your voice and lens of seeing the world are as individualized as your fingerprints. Don't be shy about how you see things. Allow the lens that you see life through to give a fresh outlook to the conversation. Your insights on a topic may even enlighten someone. If you remain silent, everyone misses out on your creative share, which can add incredible value to the discussed topic.
Participation
A team needs all players on the field to do their best for the team to win. Participation means not being outside of the situation or on the sidelines. Being inside and on the "field" of participation looks like valuing your role as someone who cares deeply about learning and cherishes the life- changing privilege of attending college. Participation is also actively showing your commitment to being present by engaging in conversation. By participating verbally, you clearly demonstrate an investment in what is happening.
Expression
When we express ourselves, it is the opposite of repressing who we are. It's how we let the world see us and contribute our ideas and gifts to those around us. Some of us find fulfilling self-expression through creative endeavors like painting, writing, or performing arts. Others may feel deep self-expression through playing sports or engaging in volunteer work. But the universal way we all share the essence of who we are—our thoughts and comprehension of a topic—is through words. Words are the intrinsic element of communication.
When we do not speak and remain silent, we deprive ourselves and others of having a meaningful interaction that reveals a part of who we are with another human being. Every time we communicate with others, we invite them into our internal world. By doing so, we forge a connection with another human being. Expressing ourselves is a bridge that leads to learning about others. It is also an open door that can spark further exploration of our ideas based on the responses or feedback we receive.
Your input allows a part of you to be seen and not hidden. When you hold back or hesitate to enter the conversation, the vitality and depth of discussion misses a layer that only your one-of-a-kind vantage point can provide. No one will see the world exactly like you do or express an idea like you do. Because of this, your words, what you have to say, and what questions or solutions you have all impact the larger conversation in every class you are in and the ones you have outside of the classroom.
When you use your voice and speak up, you value and honor the gift we each have to bring something to the table. What you say enhances the collective experience of the group you interact among. Whether engaging in a discussion in the classroom or speaking up about a topic of passion with friends, expressing who you are with your voice is something beautiful you can do to show up and shine rather than hide.
Acknowledge
Acknowledge means to admit or accept the existence of truth. When we articulate and explain a truth or belief and/or a complex idea or thought, it allows us to admit or identify the why behind our perspective or the logical thought process we used to derive our opinion. Anytime a professor or even someone outside of the classroom challenges you to verbally unpack what you acknowledge and know, it is a wonderful opportunity to explore your inner wisdom.
Acknowledging our ideas verbally can be a confidence booster. It helps us to consciously recognize how deeply we comprehend a particular concept, belief, or theory. It also confirms how well we have grasped the subject matter. As you learn to share your viewpoint, you expand your ability to conceptualize and build strong cognitive skills.
Another element of acknowledging is listening to others. Whenever your professor poses a question that prompts an intriguing response from another student, or you hear a fact that sparks you to ponder something differently and see another facet of it, the power of listening is at work. If we listen attentively, we make room to learn and talk about what has influenced us or inspired our curiosity. Speaking from a place of listening first adds another layer of flavor to the words we express in a conversation. We can pick up ideas illuminating our perspective and offer new paths of understanding. We benefit from respecting the insights of those around us.
Knowledge
Being silent deprives everyone of the resources and information you may have direct knowledge about. You may be the only one in the room who has that expertise. Always remember how your knowledge can positively impact and enrich the overall conversation.
Remember, your voice is valuable! The insights, questions, and ideas you bring to any discussion inside the classroom and beyond those walls add substance and depth from your unique point of view.
Rev. Sharon Callender is an interfaith minister, assistant registrar, and coach with certifications in life purpose, mindfulness & spiritual coaching. She specializes in helping individuals discover clarity, healing, and self-love through creative expression. Sharon is also a published fiction author and poet who is currently pursuing her Doctor of Ministry (DMin) degree at The New Seminary.
February 2, 2023
This article discusses the challenges that art majors must overcome to make their passion a career.
February 2, 2023
While there is no wrong way to visit a college, you want to make the most of your visit. This article will act as a guide for your college visit.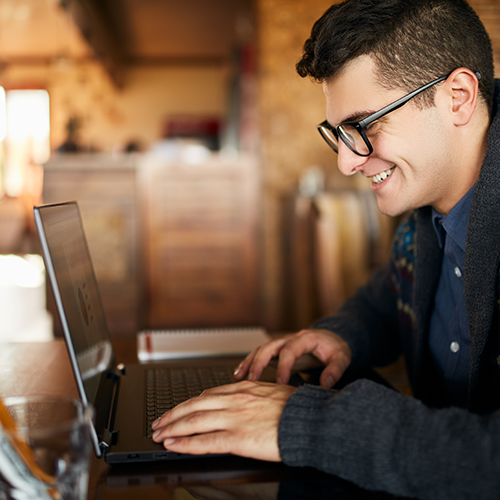 February 2, 2023
If you have been selected for verification, chances are that you didn't do anything wrong and just need to complete a few steps to get your financial aid back on track.