Five Important Steps to Survive a First-Year Writing Course
This article discusses five of the most important things you can do to survive — and thrive in — a first-year course.
By Nichole Brazelton — March 28, 2023
---
It's finally time; you've officially begun your first year of college! This year, you will complete most of your college's required credits. One of those requirements will be a first-year writing course. Maybe you struggled with high school ELA classes, perhaps you don't particularly like to write, or maybe you love to write and are anxious about how to do well in your first college-level writing course. As a writing professor, I've heard all those complaints and more.
First, try to put all of the negative feedback, fears, and distaste from high school writing classes behind you. Using some former feedback constructively is fine, but dwelling on a high school English teacher's opinion of your writing isn't productive. In college you can grow, reinvent yourself as a writer, and discover all new ways of expressing yourself through writing.
Read on to discover five of the most important things you can do to survive — and thrive in — a first-year course!
Read the Syllabus
Every syllabus you receive in college will indeed contain repetitive information about general school policies and services. After going through it for one course, it can be tempting to skim or altogether skip reading it for subsequent courses. This is a mistake! Professors take time to compile unique and specific information necessary for success. Carefully read through the course-specific sections of the syllabus for your first-year writing course. Be sure you understand:
Grading and late policies
How to submit assignments
Due dates
Required reading materials
Office Hours
Grading and late policies
Your professors will provide their policies for accepting late work, any penalties they assess, and what to do if you run into an emergency that affects your submission. They will also provide the point value of each assignment, total points possible for the course, and general grading guidelines. Each assignment will have a specifically tailored rubric. Still, the general gradable components like spelling, grammar, headings, margins, and other formatting rules should remain the same.
How to submit assignments
Some professors only take submissions in a specific file format (usually Microsoft Word). Most colleges provide a free download of the entire Microsoft Word or Microsoft Office suite through your student account. Take advantage of this download before submitting your first assignment in a writing course.
Make sure you are clear on where to submit assignments. Typically, you upload projects to a location on a course page run by a learning management system (LMS) like Canvas or Blackboard. It's essential to learn how to use your school's LMS. If you have issues or have questions, ask your professor and contact your school's IT department.
Due dates
Note critical due dates in the syllabus. Don't just rely on the calendar tool on your course LMS page. Those calendars are helpful, but they also have a habit of not updating correctly and might occasionally be offline for maintenance or other tech-related issues.
Taking a few extra minutes your first day to note the due dates of all major essays, outlines, and group projects. Put those dates in your own calendar app or daily planner. Putting due dates in your preferred app also enables you to set various progress and work reminders for when you'd like to complete major essay components.
Textbooks and required reading materials
Order all required books as soon as you receive the booklist. Professors usually send these lists to your student email several weeks before the semester begins. Save as much money as possible when buying books for a first-year writing course by finding them used or renting them for the semester.
Many instructors assign Open Education Resource (OER) texts to save students money and ensure everyone can access necessary material. If this is the case, you're in luck! Just make sure you locate the required text (using a provided link) and download the material, if necessary.
Office Hours
Each professor, instructor, or graduate teaching assistant will list their office hours in the syllabus. This is true even if you are taking a course entirely online. Office hours are times set aside to talk with students and answer questions or go over assignments. Note the times, locations (office location or virtual meeting room), and any scheduling requirements. Remember, it's better to reach out to your professor early and regularly than to wait until the last minute and risk falling behind or earning a low grade.
Make a Schedule and Keep It
Research and Writing Plan
Set aside at least one day (preferably two) each week dedicated to writing and research. Keep that day sacred and be disciplined in your work schedule. Aim to either complete the research for one short essay, one section of a more extended essay, or perform one step in the writing process: brainstorming, outlining, summarizing sources, or writing rough drafts. Remember to incorporate minor assignments and due dates into your plan. Smaller course assignments often include submitting outlines, summaries, and rough drafts.
You need more than one day of work each week to complete an essay; you should dedicate yourself to parts of that task at other times throughout the week. But having one day dedicated to constructing your essay will allow you to make steady progress, complete work in manageable pieces, and address any challenges promptly.
Reading Plan
Stay current on course readings! There's nothing worse than falling behind on reading and cramming several chapters into one sitting trying to prepare for a test or failing a surprise quiz because you didn't complete the readings. Completing the weekly readings also ensures that you have something to contribute or understand what your classmates are referencing. Even if you don't speak out in class, it helps mitigate boredom and build confidence when you feel connected to the material and other students.
Due Date Reminders
Set a reminder seven days in advance of any major assignment. College students get busy, workloads can be overwhelming, and sometimes unpredictable events occur. Setting reminders a week before the due date makes it easier to stay on track and helps you plan for last-minute changes and proofreading.
Understand College Essays
In a first-year writing course, you will encounter some, or all, of the essays described below. These basic descriptions will familiarize you with the general expectations of each.
Narrative and Descriptive Essays:
These are usually stories about real-life experiences or essays meant to highlight. There is a great deal of overlap between these two essays: narrative essays are descriptive and engaging, and descriptive essays usually follow a narrative structure. A narrative essay is the only college essay in which it is preferable to use a first-person perspective.
Informative, Analysis, or Research Essay:
These essays all share one purpose: to educate your reader on a topic. These are not opinion-based essays, and unless the professor says otherwise, they should remain free of the writer's personal feelings or biases. Sometimes there will be precise guidelines for these essays.
For example, a comparison essay explores similarities and differences between two concepts. An analysis essay asks the writer to research and deeply consider how well (or poorly) a piece of writing performs a specific function. Research essays require you to locate the historical and interesting information or data about a topic.
Argument or Persuasive Essay
These essays require students to collect and evaluate fact, evidence, and examples on debatable issues and establish a personal position. After researching, you will create a logical argument to convince readers your idea or opinion is more reasonable than another one. To do this, you will use traditional methods of persuasion: logos, ethos, and pathos.
Know How to Choose Topics
Sometimes, professors provide lists of topics to choose. Other times, you will have to develop a topic independently. No matter how you choose your topic, make sure it meets these two criteria: it is easily researched and is something that interests you. Being interested in a topic means one of the following:
You are motivated to learn about something completely new.
You want to learn something new about a subject that's already a passion.
You have experience with a subject and want to learn about the experiences of others within that same subject.
To determine if you can research a subject easily, take ten minutes to type associated keywords into a couple of different search engines. A fast method is to open tabs with Google, Google Scholar, and your library's general search tool. If you enter a few sets of keywords and none of those search engines return useable or plentiful results, you should reconsider your topic.
Remember to Step Away
Your health and well-being are paramount. Build time into your schedule for rest, fun, and visiting loved ones. Aside from completing your degree, college is a time for personal exploration and growth. If you neglect your individual and emotional needs, you risk burn-out, drop-out, and mental health struggles. If you ever feel overwhelmed or are struggling with mental health needs, seek out a trusted professor, mentor, friend, or your campus counseling services. Take your studies and writing seriously, but don't lose yourself in the process!
Nichole Brazelton is a professor of writing and humanities at Manchester Community College and a poet. Her creative works have been recognized as finalists for multiple literary awards, anthologized, and featured in national and international literary journals, including Marathon Literary Review, Sand Hills Literary Magazine, Canary, Landing Zone, and Hip Pocket Press. Her scholarly works have appeared in Educational Philosophy and Theory and the International Journal of Listening.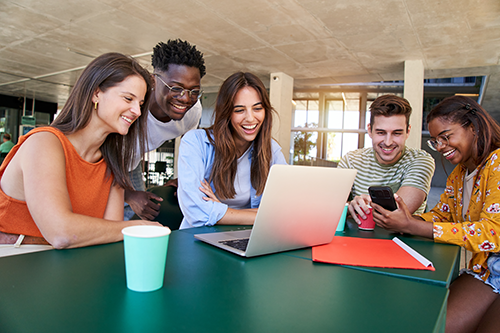 June 5, 2023
As illustrated in previous articles, there are so many valuable skills and lessons to be learned by participating in school clubs and organizations. As an organization leader, you have the ability to see things from a different perspective.
June 5, 2023
This summer, be sure to take time to rest and regroup for the incoming academic year — you've earned a break after your hard work. Once you're ready to tackle the next challenge, consider adding some of these activities to your schedule, so that you can set yourself up for success next semester and each day of the summer ahead.
June 5, 2023
This article compiles advice from chronically ill, disabled, and mentally ill individuals and applies that advice to the topic of college roommates. To learn more, talk to and learn from disabled people and disability advocates.